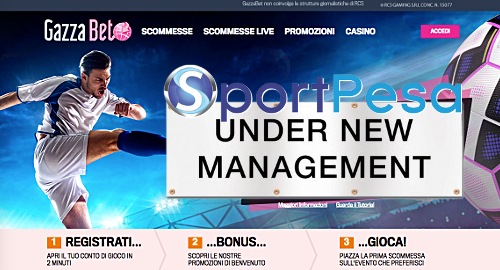 Kenyan sports betting operator SportPesa has entered the Italian market via its acquisition of locally licensed operator RCS Gaming.
Late last week, SportPesa Global announced that it was acquiring 75% of RCS Gaming, a subsidiary of the RCS Media Group. Terms weren't disclosed, but the deal will see RCS rechristen its Italian-licensed Gazzabet brand as SportPesa.
Gazzabet.it launched in September 2014 as a partnership with gambling technology provider Playtech but has yet to claim a significant share of Italy's online gambling market. Official figures show Gazzabet.it's sportsbook revenue totaled a mere €800k in 2016, equating to about 0.8% of the overall sports betting market. The site's casino operations earned around €820k, equal to around 0.18% of the market.
The deal also calls for SportPesa to enter a five-year advertising contract to promote its new Italian betting brand via various RCS Media Group outlets, including the Corriere della Sera daily newspaper and the La7 television channel.
SportPesa Global represents the company's markets outside its native Kenya, including the UK, South Africa and its recent expansion into Tanzania. The new Italian operation will be run by Adam Beighton, who said the acquisition "presents new opportunities to showcase to our current and future customers the SportPesa culture."
SportPesa recently received extra motivation to expand its operations beyond Kenya after that country's parliament voted to boost its tax rate on betting revenue from 7.5% to 35%. The hike was part of the country's plan to impose a uniform tax rate on all gambling activity, a step the government claimed was necessary to curb rising gambling rates among Kenyan youth.
The tax hike was vehemently opposed by the nation's betting operators, including SportPesa, who immediately announced that it would scrap its sponsorship of Kenya sports bodies as of January 1, the same day the new tax is set to take effect.
SportPesa Global CEO Geraim Nikolov later announced that the company would cease its operations in Kenya as of next January due to the new tax rendering their operations unviable. However, this threat was walked back a few days later when founder/CEO Ronald Karauri insisted that Nikolov's comments were overstated and that SportPesa would be "the last gaming operator to ever close in Kenya for whatever reason."
Comments