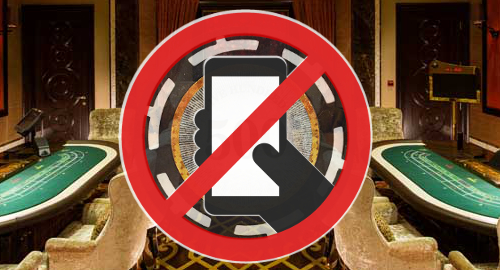 Macau authorities have warned local casino and junket operators to step up their enforcement of the ban on phone use at gaming tables.
On Friday, Macau's Gaming Inspection and Coordination Bureau (DICJ) issued a statement noting the recent arrest of some 17 individuals suspected of running an illegal online proxy betting operation from a VIP room at an unidentified Cotai casino. It was the second such bust in the last three months.
The DICJ said it was "very attentive" to the case, due to the gang having allegedly used smartphones to livestream table game action to up to 50 mainland Chinese bettors at a time via the WeChat social media platform. The DICJ banned "phone usage at gaming tables" in May 2016 in a bid to curtail the spread of so-called proxy betting operations.
The DICJ further warned concessionaires and junket operators to maintain "strict compliance" with the phone ban, to strengthen monitoring of VIP rooms to ensure the prohibition wasn't being flouted, and to "immediately" report any transgressions. The DICJ noted that it was cooperating closely with Macau's Judiciary Police to ensure its rules were being observed.
Macau previously tolerated proxy betting in its VIP rooms provided the junkets registered in advance to conduct such activity. But it appears that Beijing – which doesn't allow non-lottery gambling on the mainland – leaned on Macau to clamp down on the phone betting to reduce the illegal outflow of capital from mainland gamblers.
Macau police were recently part of a three-month joint operation with their counterparts on both the mainland and in Hong Kong that resulted in over 8k arrests of triad and other organized crime members accused of illegal gambling, money laundering and drug trafficking.
The operation, dubbed Thunderbolt 17, is something of an annual event, but Hong Kong police officials told the South China Morning Post that this year's effort went on longer than usual. The second phase of the operation, which kicks off later this year, is also expected to last three months.
Comments