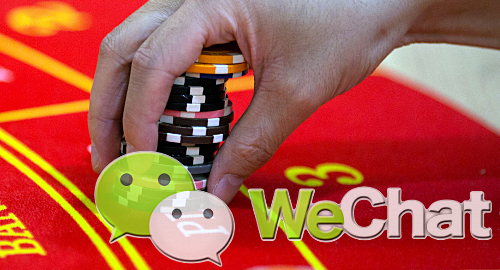 Macau authorities have broken up another online proxy betting ring that used the WeChat social media platform to stream live table game action from a local casino.
On Thursday, Macau's Judiciary Police (PJ) announced the arrests of four local residents and 13 mainland Chinese for their suspected involvement in the illegal gambling ring, which streamed real-time action from a VIP baccarat table at an unidentified "Cotai casino."
A PJ spokesperson informed local media that the proxy betting ring catered to a roster of mainland Chinese gamblers who were promised the ability to "play real baccarat games in Macau." The ring, which is believed to have been operating for one year, offered "two to three" daily sessions of wagering activity, with each session involving roughly "40 to 50" gamblers.
Macau banned proxy betting – in which real-time table activity is relayed to distant gamblers via voice or video communications channels, and these gamblers respond with directions on how they wish to wager – in 2016 to comply with Beijing's efforts to curtail capital flight.
However, anecdotal reports have suggested that proxy betting is still going on in some Macau casinos, and local police cracked a similar WeChat-based proxy operation earlier this year.
The PJ disrupted this latest gang after receiving a tip-off in May about the ring's presence in a flat in Macau's ZAPE district. A raid on this flat netted multiple laptop computers and mobile phones, all of which reportedly contained gamblers' betting information. Some gamblers funded their wagering activity via the Alipay online payment processor.
Seven of the suspects were arrested at the Cotai VIP room, with one suspect seated at the table doing the actual gambling, while the others were responsible for filming the action via smartphones and relaying individual customers' betting directions from the gang's other members, who were located outside the casino.
Macau's proxy betting ban has been a boost to casinos in other Asia-Pacific jurisdictions, particularly the Philippines. Analysts have estimated that proxy betting could account for up to 50% of the VIP gaming revenue generated by Manila casinos.
Comments