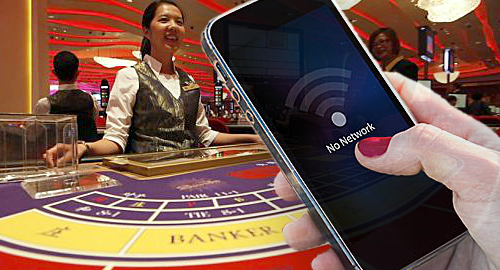 Macau's junket operators say they're not to blame for the rise in gamblers flouting the ban on the use of phones at casino gaming tables.
In May 2016, Macau's Gaming Inspection and Coordination Bureau (DICJ) banned gamblers from using phones at casino tables. The ban was intended to prohibit proxy betting, in which a trusted proxy relays real-time baccarat information to a gambler (usually) on the Chinese mainland, who then issues instructions on how to bet on each hand.
On Thursday, GGRAsia reported that, between May 9, 2016 and April 16, 2017, the DICJ had issued 71 verbal cautions to gamblers who were observed flouting the ban. Interestingly, the majority (49) of these warnings were issued since the new year began, suggesting that either the casinos are doing a worse job of educating gamblers about the rules, or gamblers are hoping the DICJ's stance would loosen over time.
The DICJ stressed that the gamblers they had to caution "usually" stopped using their phones after being advised to hang it up and that "no irregularities were detected in their play afterwards." The DICJ noted that none of the 71 cautions were deemed worthy of passing on to the Judiciary Police for "follow-up action."
Proxy betting proved easier to ban than enforce, as anecdotal reports in the weeks after last year's ban suggested some junkets were using wireless earpieces – sometimes obscured by long hair – to continue their lucrative communications with mainland gamblers.
Earlier this month, Macau police arrested seven individuals suspected of conducting a proxy betting operation with a modern twist. The operators communicated real-time gaming info from an unidentified casino to a loyal stable of around 40 bettors via the popular WeChat instant messaging platform.
Police said the WeChat ring didn't appear to have any connection to local junkets. Kwok Chi Chung, who heads up the local junket industry association, expressed doubts that any of the major Macau junkets would attempt to flout the phone ban, for one simple reason: "They don't need to rely on proxy betting for making profits."
Comments