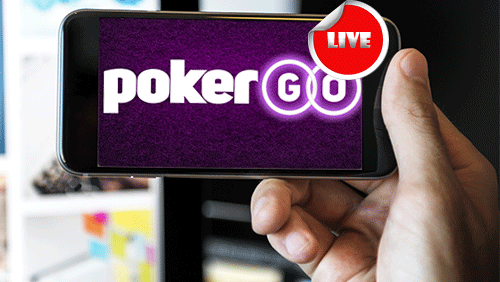 PokerGo has announced their World Series of Poker live streaming plans and unveiled an impressive list of poker luminaries to help bring the action to life.

Poker Central has released the schedule for the World Series of Poker (WSOP) live streams along with the names of the people hired to make it work as smoothly as a fire escape in a burning building.
The action has already begun to filter through your laptops, tablets, and mobile phones. Live streaming of WSOP bracelet events began June 3 with coverage of the $111,111 One Drop High Roller. It ends with coverage of the WSOP Main Event on July 22, the first time anyone has seen live coverage of the Main Event from Day 1 Shuffle Up and Deal through to a winner.
Poker Central and ESPN struck a landmark deal with WSOP before the 48th Annual event pulled back the shower curtain and to reveal their spades and clubs.
In case you missed it, the ESPN will telecast 40 hours of live WSOP Main Event coverage, plus 90 more hours of original footage that will air sometime in the next year. Anything left behind will be hoovered up by the Poker Central team, and broadcast via the new subscription service PokerGO.
And here is the blow by blow coverage of live streams available for PokerGO subscribers (subject to change):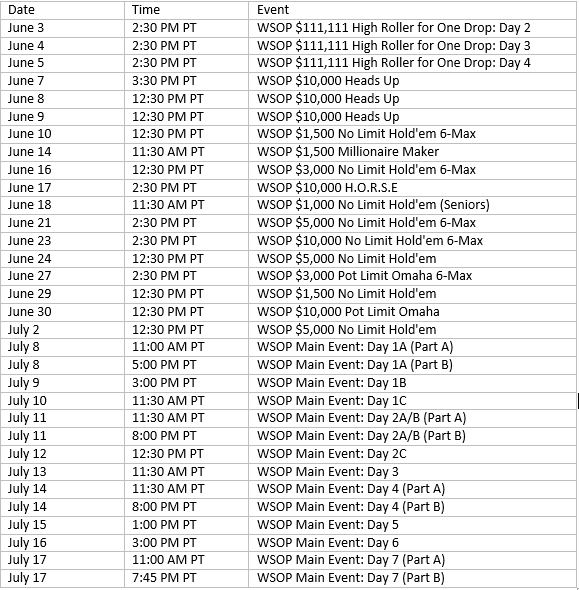 The ESPN & PokerGo Teams
Poker Central has also announced the people who will make sure we end up eating from the full buffet of Sushi, and not just the edamame.
The ESPN coverage of the WSOP Main Event will once again fall into the capable hands of the WSOPs faithful hounds Lon McEachern and Norman Chad. Kara Scott returns as the Break Desk Host, and Sideline Reporter and support comes in the shape of Daniel Negreanu, Antonio Esfandiari, Joe Stapleton and Phil Hellmuth.
Poker GO's Ali Nejad and Nick Schulman will scoop up any WSOP Main Event action sneaking through the fencing.
Outside of the WSOP Main Event, the PokerGO team consists of Lon McEachern and Norman Chad on commentary. David Tuchman handles the Break Desk, assisted by Jeff Gross, Jonathan Little, Doug Polk, and David Williams. Tatjana Pasalic takes up the role of sideline reporter.
All of the action streaming live either on ESPN or PokerGo arrives on a30-minute delay, and you will get to see hole cards.
If you want to subscribe to PokerGo, and according to Hendon Mob 13.2% of those polled do, then a monthly pass will cost you $10, and an annual pass. $99.
Cheap as chips.