888Poker has delivered the perfect tonic to poker players with very little time to partake in a spot of cards by reducing the time limit in BLAST Poker games to two minutes with their new Fast BLAST games.
Watching online poker rooms evolve is like looking at a bunch of kids playing Simple Simon Says.
Full Tilt creates Rush Poker, and everyone follows.
Winamax creates Expresso Poker, and everyone follows.
Very often, the newer versions lack individuality and stink of laziness. But in the summer of 2016, 888Poker finished writing their Lottery Sit & Go equations on the company blackboard, and the result was BLAST Poker.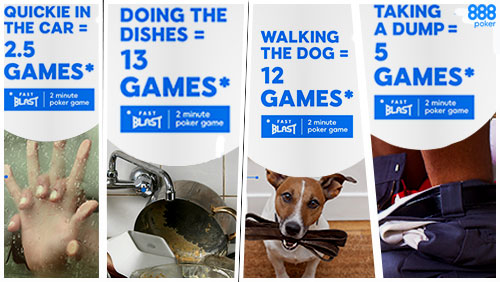 BLAST Poker was different from the other forms of lottery style Sit n Go because each game came equipped with a countdown clock that would automatically put all the remaining player's all-in every hand once it had run down.
The length of the game varied depending on the multiplier. Typically, a 5x game would last six minutes, a 10x game would last eight minutes, a 100x game would last 10 minutes, and a 10,000x game would last 12 minutes.
Yesterday, pushers of fun, 888Poker, announced a further alternative if you like the pace of your game fast and furious when they launched Fast BLAST games.
The difference?
The timer for each of these games, irrespective of the multiplier, is reduced to two minutes. The new games are available at the 10 cents to $30 buy-in levels.
Why The Change?
You don't need to have sailed on HMS Beagle to understand the evolution of the changes. 888Poker gain because players can play more games per hour. The players who have children, careers, or partners who hate them playing poker, also have more time to fit in a few of these lightning rods.
BLAST and Fast BLAST-type games are also perfect for mobile devices and considering Elon Musk's view that all humans are cyborgs and our cell phone has become a fifth limb, the move is the right one.
Qualify for the World Series of Poker Main Event
In another smart move, the 888Poker team has linked the Fast BLAST promotion with qualification for the World Series of Poker (WSOP) Main Event.
The event that has turned the likes of Doyle Brunson, Phil Hellmuth, and Chris Moneymaker into heroes is the Holy Grail for any budding poker player.
You can qualify for a WSOP Main Event package via the $10 Fast BLAST route, and don't forget, the Spaniard Fernando Pons qualified for the WSOP Main Event, via 888Poker last year and finished ninth for a million bucks.
Comments