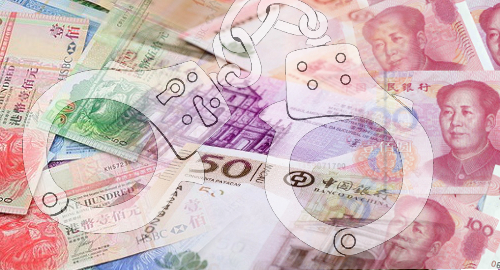 Monetary authorities in Macau, Hong Kong and Beijing are vowing to up their game in the fight against money laundering.
On Friday, the Monetary Authority of Macau (AMCM) announced that it had met with its counterparts at the Hong Kong Monetary Authority (HKMA) as well as with representatives of the People's Bank of China (PBOC) to power a new Financial Security Expert Alliance aimed at combatting serious financial crime, money laundering and terrorist financing.
The HKMA issued its own statement that echoed many of the AMCM's talking points while not actually referencing the AMCM. Instead, the HKMA announced the formation of its own Fraud and Money Laundering Intelligence Taskforce that will utilize the combined strengths of regulators, the financial sector and the Hong Kong Police Force.
Sources told the South China Morning Post that the separate but equal statements reflected "a coordinated move with Beijing pulling the strings" to combat the "outflow of illicit funds from China's economy."
While some Macau gaming execs believe Beijing's crackdown on corruption has largely "subsided," Beijing clearly remains keen to clamp down on Macau serving as a spigot for capital flight. Earlier this month, Macau officials confirmed that China-issued UnionPay bank card users will have to scan ID cards and subject themselves to facial recognition scans before being allowed to withdraw cash from Macau ATMs.
Cynics have suggested the new alliance is more about optics, noting that the new cross-border enthusiasm for ensuring financial propriety comes ahead of a 2018 visit to the region by an audit team from the international Financial Action Task Force (FATF), and no jurisdiction wants to get on FATF's bad side.
The FATF previously threatened to put the Philippines on its anti-money laundering blacklist unless the country finally got around to including gambling operators as covered entities under its Anti-Money Laundering Act (AMLA). The Philippines plans to amend the AMLA next month, reflecting legislators' awareness that the country relies on overseas foreign worker remittances for nearly 10% of its GDP and inclusion on the FATF's naughty list could increase transaction costs for those remittances.
Comments