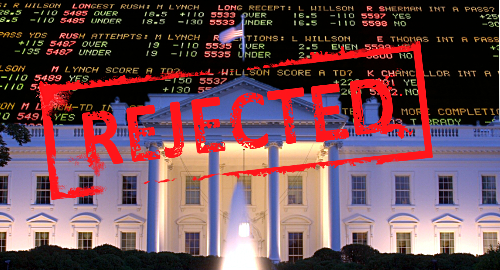 New Jersey's quest for legal sports betting has taken a hit after the White House's top legal eagle urged the US Supreme Court not to hear the case.
On Wednesday, the office of Acting Solicitor General Jeffrey Wall filed a brief with the Supreme Court urging it not to hear New Jersey's appeal of lower court rulings preventing the state from authorizing legal sports betting within its borders.
In January, the Court requested the Solicitor General's opinion on New Jersey's latest sports betting legislation, which sought to undo the federal PASPA sports betting prohibition by selectively authorizing the activity at state racetracks and Atlantic City casinos.
New Jersey's legal argument was based on its view that PASPA is unconstitutional due to its violation of the US Constitution's anti-commandeering clause, which prohibits the federal government from requiring states to enact or enforce federal regulations.
The Solicitor General's view is that, as sports betting was already illegal, PASPA doesn't require states to lift a finger to conform to its edicts, and therefore is "a permissible exercise of congress's authority to regulate state activities and to preempt state laws that conflict with federal policy in an area within Congress's enumerated powers."
Gaming attorney Daniel Wallach (@WALLACHLEGAL) tweeted that, while the Court seeking the Solicitor General's opinion raised the likelihood of it hearing New Jersey's appeal by a factor of 37, the Court also tends to follow the Solicitor General's opinion in 80% of such cases. Wallach suggested that the Court would decide by June 26 whether it will hear New Jersey's appeal.
New Jersey does have a 'nuclear option' in its legal silos. As suggested by earlier lower court rulings, there is nothing in PASPA that prevents the state from declining to enforce its anti-betting laws, essentially creating a free-for-all environment in which any citizen could serve as a bookie without fear of prosecution.
The apparent strategy behind this nuclear option is that the resulting chaos – imagine children placing bets with their lunch money while police did nothing – might compel the sports leagues that have been the main antagonists of New Jersey's betting plans to rethink their opposition and possibly urge the feds to lift its federal betting ban.
Comments