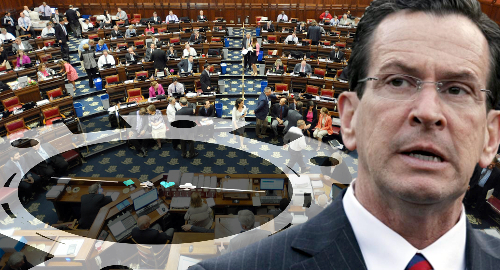 Connecticut's governor has told state legislators that the only casino expansion proposal he'll sign is one that doesn't interfere with the state's existing exclusivity deal with two gaming tribes.
Last Friday, Connecticut Gov. Dannel Malloy (pictured) waded into the contentious debate over whether the state should (a) permit the Mohegan and Mashantucket Pequot tribes to open a joint venture casino off tribal land near East Windsor, or (b) launch an open tender for a third casino license in which private firms like MGM Resorts could compete.
Malloy told the CT Mirror that he "will not sign a transaction or bill that puts into real danger our existing arrangement with the tribal nations." The two tribes, which run the Foxwoods Resort Casino and Mohegan Sun Casino on their respective tribal lands, currently pay the state 25% of their slots revenue – worth roughly $260m this year – in exchange for exclusivity over casino operations in the state.
The tribes want to run their East Windsor casino as a hedge against MGM Springfield, the $950m facility scheduled to open just over the Massachusetts border in September 2018. MGM has mounted legal challenges of the proposal to award the off-reservation casino license to the tribes without a public tender.
Malloy told the Mirror that he was speaking out to "help the legislature focus," saying there was only "one road to go down" if the intention was to protect jobs at the two existing casinos. Malloy hedged that he wasn't pushing for or against the third casino plan, but insisted that this was the time for realistic discussions "and it's not realistic to put $260m or more at risk."
The chairmen of both tribes issued a joint statement supporting Malloy's remarks, calling the governor's assessment "spot on." MGM's legal counsel Uri Clinton said MGM "respectfully disagree[s]" with Malloy's view, while claiming that an MGM casino near the state's border with New York "would generate more than the $260m in tax revenue" the state currently receives from the tribes.
The tribes have cited an opinion from the federal Bureau of Indian Affairs that the off-tribal casino wouldn't jeopardize the existing tribal-state compact. But this view isn't necessarily shared by the state's Attorney General and MGM recently produced a letter from Sen. John McCain stating his view that the plan would run counter to the Indian Gaming Regulatory Act.
The state legislature reconvenes on Tuesday for a final 15-day session before adjourning at midnight on June 7. Whichever casino plan legislators ultimately choose to support will likely face immediate legal challenges, meaning this debate will likely endure for a good while yet.
Comments