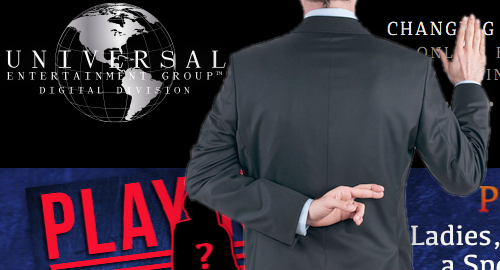 The sketchy developer behind efforts to launch an online gambling site for Oklahoma tribal groups is reportedly being investigated by the National Indian Gaming Commission (NIGC).
On Monday, The Oklahoman reported that the NIGC was looking into the 2014 demise of an online gambling deal between the Cheyenne and Arapaho Tribes and Florida-based developer Universal Entertainment Group (UEG) that never got off the ground despite the tribes paying UEG $9.4m.
Cheyenne and Arapaho tribal legislative speaker Reggie Wassana told the media outlet that the NIGC had recently asked for additional information regarding the tribes' 2012 deal with UEG. Wassana noted that while UEG did launch a PokerTribes.com website, "nothing became of" the project beyond the bare-bones site. "There was no realization of profits and no actual working internet gaming."
UEG's pitch to tribes was that their sovereign nation status allowed them to launch real-money online gambling operations targeting customers outside the United States. Trouble is, virtually no one believes such a site will be able to capture any significant slice of that international market without spending millions of dollars on marketing, and where that money might come from is unclear.
The tribes' deal with UEG was scrapped following a change in tribal leadership. Current Cheyenne and Arapaho governor Eddie Hamilton issued a statement saying the tribes sought to "bring to justice, hopefully with the support of federal authorities, everyone who played a role in the PokerTribes scheme to take advantage of the tribes."
Fred Khalilian, the head of UEG who in 2011 reached a $4.2m settlement with the Federal Trade Commission over deceptive telemarketing operations, expressed confidence that the NIGC wouldn't find any evidence of wrongdoing. Khalilian claimed UEG had already survived a 2014 FBI probe that failed to uncover any evidence of illegality in UEG's deal with the tribes.
Following the demise of PokerTribes.com, UEG struck a deal with the Iowa Tribe of Oklahoma to launch PokerTribe.com, which is basically the original free-play site with a slight rebrand. The site has missed multiple real-money launch dates yet continues to claim that real-money online gambling is/was coming in the "Winter of 2016/17."
The Iowa tribe reportedly has a $10m deal with UEG and tribal attorney David McCullough insists that the real-money version would launch once it had secured an online gambling license from Isle of Man regulators.
McCullough said the license was expected this summer and chalked up the delays to the fact that the real-money tribal online concept "hasn't been done before, so everything is new." We beg to differ on this point, as history amply demonstrates that outsiders have been attempting to cheat tribal groups since the Pilgrims landed on Plymouth Rock.
Meanwhile, UEG has been advertising for an "international Female Spokesperson & Model" – which is apparently two positions, as "we need a blonde and a brunette" – to promote PokerTribe.com. The position(s) come with a promised pay packet of "7 figure plus $$$$$$$," which is seven dollar signs, so you just know it's legit.
While the contest appears to be old, the goal was to identify candidates "before our international launch 2016," so perhaps the search remains as open-ended as the site's ever-elusive launch. Regardless, UEG says the search for the PokerTribe hottie – who "needs to be a '10'" – will be "part of a reality show," which is probably the first time anyone has connected reality with any of UEG's half-baked business ventures.