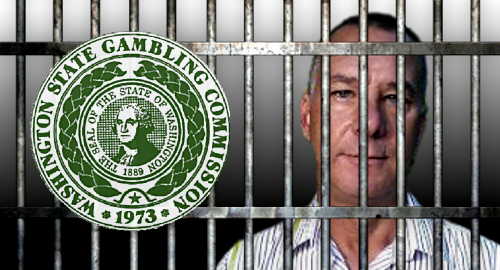 The alleged head of Costa Rica-based online sportsbook Sportsbetting.com has been forcibly returned to the United States to face nearly decade-old illegal gambling charges.
On Thursday, Washington state media outlet The Chronicle reported that Ronald Ehli (pictured) had made an appearance in Lewis County Superior Court to face charges of second-degree professional gambling and unlawfully transmitting or receiving gambling information.
Ehli was originally charged way back in 2008 after an agent from Washington State Gambling Commission's Criminal Intelligence Unit placed bets on Sportsbetting.com. When the agent withdrew his winnings, the check he received was signed by Ehli and drawn on an account belonging to Ehli's check-writing outfit EZPay Financial Services.
The agents paid a visit to EZPay's offices in the little town of Chehalis, WA, where they interviewed a couple staffers and seized a computer. After studying the digital data, police seized a total of $4.9m from EZPay accounts based on their belief that the money was the proceeds of illegal sports betting.
A nationwide warrant was issued for Ehli, who was in Costa Rica at the time of the raids and never returned to US shores, eventually relocating to Nicaragua. His LinkedIn profile lists him as CEO of a local tropical fruit export business that launched in February 2009.
While prosecutors are apparently under the belief that Ehli was running SportBetting.com, he told the Seattle Times in 2015 that the seized money "wasn't mine; it belonged to all of [EZPay's] clients. That's the reason I never went back to the US. I couldn't show my face after losing all my clients' money."
The Chronicle quoted Chief Criminal Deputy Prosecutor Brad Meagher saying US State Department agents detained Ehli about a month ago at the Nicaragua border after something about his passport set off alarm bells. State Department agents contacted Meagher, who convinced them to revoke Ehli's passport, after which Ehli was transferred to Florida and taken into custody.
Ehli's next court hearing is next Thursday (25). Meagher has agreed to allow Ehli to post bail of $10k, noting that Ehli wasn't "a violent guy," and besides, "he doesn't have a passport – he can't go anywhere."
Nicaragua has been the undoing of more than one online gambling fugitive. In 2013, former BetUS exec Larry Hartman was deported to the US to face fraud charges after presenting bogus travel documents to Nicaraguan immigration authorities.