Philippine casino operator Bloomberry Resorts Corp.'s net profit jumped to PHP2.15 billion (US$43.27 million) in the first quarter on the back of record VIP volume.
Bloomberry announced that the company managed to reverse the PHP1.16 billion ($23.35 million) net loss it incurred in the same period last year, thanks to robust gross gaming revenue, which grew 39.7 percent to PHP10.66 billion ($214.6 million) in the January to March 31, 2017 period.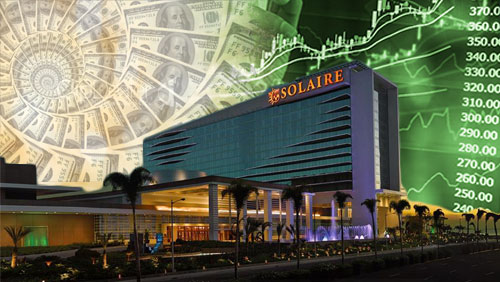 The operator of Solaire Resort & Casino and South Korea's Jeju Sun Hotel and Casino said in a regulatory filing with the Philippine Stock Exchange on Monday that its revenues from the VIP segment grew 60 percent to PHP5.13 billion ($103.25 million) during the first three quarters of the year.
Mass tables and slots machines remain vibrant, growing 27.1% and 22.4% to PHP2.77 billion ($55.8 million) and PHP2.75 billion ($55.3 million), respectively. Earnings before interest, taxes, depreciation, and amortization (EBITDA) grew 161% to P3.157 billion ($63.54 million).
Bloomberry's net revenues, which include gaming, hotel, food and beverage, surged 50% to P8.59 billion in the first quarter, from P5.7 billion a year ago.
Bloomberry didn't specify which nationality was the top spender or visitor of its integrated resort but its chairman, Filipino billionaire Enrique Razon, Jr. was quoted saying last month that their gaming facility saw a surge of Chinese visitors after President Rodrigo Duterte's state visit to Beijing in October.
"We are very pleased that the turnaround and headway we experienced in 2016 continued to be felt in the first quarter of the year. We are convinced that this trending will go on for the rest of the year. Our programs on fund management, cost containment and customer engagement across the entire organization are reverting to us with winning points," Razon said in a statement.
Solaire remains Bloomberry's goldmine as the integrated resort saw its VIP volume, mass table drop and slot coin-in grew by 35%, 24% and 26%, respectively. Its non-gaming revenues jumped 41% to P786 million ($15.82 million).
Hotel occupancy stood at 92.6% for the first quarter, up from 84.9% in the same period in 2016.
In South Korea, the Jeju Sun Hotel and Casino's revenues soared 153% to P59 million ($1.2 million), although this accounted for only 1% of Bloomberry's total GGR.
Bloomberry managed to cut total expenses by 2% year-on-year to P6.45 billion, after substantial reversals in its Korean operations from foreign exchange gains during the quarter.
Comments