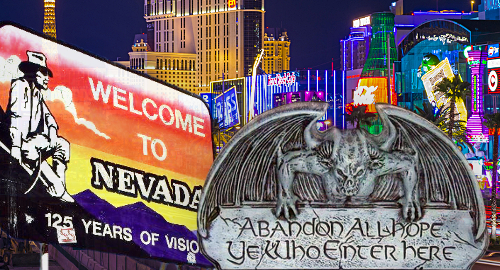 Nevada remains America's 'most addicted' gambling state, according to the latest study from financial fitness firm Wallethub.
Tuesday saw the release of Wallethub's annual ranking of US states according to their availability of gambling options and the number of residents seeking treatment for gambling disorders. As with last year's study, Nevada narrowly pipped South Dakota for the non-coveted title of 'most addicted' state.
Wallethub's overall ranking is primarily (70%) based on a state's perceived 'gambling-friendliness', i.e. comparing the number of casinos/gaming machines relative to a state's population, as well as lottery sales, horserace betting, the availability of newer options such as iGaming and daily fantasy sports and even the presence of illegal gambling operations.
Lesser emphasis is given to the 'gambling problem treatment' score, which comprises the number of adults diagnosed with gambling disorders, the frequency of Gamblers Anonymous meetings, the availability of treatment programs and the volume of gambling-related arrests per capita. So the study is really more about gambling availability than anything else, but hey, 'availability' isn't the most clickbait-friendly word, so there you go.
Nevada, South Dakota and Oklahoma scored a three-way tie for the most casinos per capita, yet Oklahoma ranked seventh on the overall most addicted chart due to its ranking 38th on the gambling problem scale, compared to 10 and six, respectively, for Nevada and South Dakota.
Hawaii and Utah remain the only two US states without any form of legal gambling, yet Hawaii ranked fourth on the gambling arrests chart, behind only Illinois, Mississippi and New Jersey. Hawaii ranked 39th on the overall most addicted chart, which represents a significant improvement from last year's 27th position. Hawaii's problem gambling score also improved from second last year to eighth on the 2017 chart.
Florida earned the title of the state with the lowest percentage of adults diagnosed with gambling disorders, a statistic that will likely be bandied about quite a bit over the next few weeks as state legislators wrestle with whether to approve any of the various gambling expansion proposals currently under discussion.
Comments