This is a guest contribution by Yousif Al-Dujaili of Dribble. If you would like to submit a contribution please contact Bill Beatty for submission details. Thank you. 
In mid-November 2016 the two largest daily fantasy football companies, DraftKings & FanDuel, announced a merger of equals. The thinking was that instead of pouring hundreds of millions of dollars into continuing to fight each other, they could fight legal and political battles together & continue to expand.
When the news broke, ReCode quoted "the merger still needs to pass regulatory approval, but it's hard to imagine that will be a problem."
So why haven't we heard anything substantial since then? Why have almost four months gone by with no news of a confirmed merger?
Worrying signs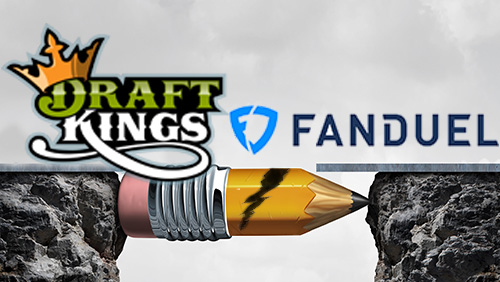 A period of silence of over 30 days following a merger announcement in the US is usually a clear indicator of regulatory & antitrust issues according to legal expert Marc Edelman.
Under the Hart-Scott-Rodino Antitrust Improvements Act, after both parties have filed to the Department of Justice & Federal Trade Commission, they must "wait a period of 30 days" before the deal can be completed.
FanDuel CEO Nigel Eccles recently interviewed on Bloomberg, where he stated:
"As expected, we're engaging the FTC, they're reviewing the transaction and that process is going well. And we'll continue on the timeline we announced previously."
This seems like an attempt to calm worried investors & stakeholders. Since it's been over four months of silence, it's safe to assume that there are strong antitrust concerns. This isn't to say that the deal will definitely be blocked, but both parties will be having their work cut out winning over the FTC.
What's the problem?
A merger between DraftKings & FanDuel would create a company that holds 95% of the Daily Fantasy Sports market.
In the US, a monopoly is generally defined as an entity with the ability to "fix prices" & does so through "wilful acquisition." A merged DraftKings & FanDuel, created by "wilful acquisition," with 95% market share would clearly be able to increase the rake they take from games. Users would have no or extremely limited alternative products with a lower rake to choose from.
However, the two companies argue that they are part of a wider "fantasy sports market" that includes season-long sites. This would put their combined 5m player base in a wider 57m player market, giving them only 8.7% market share as opposed to 95%.
For anyone in the daily fantasy industry, it's clear that this is all smoke & mirrors. DraftKings & FanDuel certainly do not come under the season-long fantasy umbrella. Although they remain games of skill, users play DFS to win cash. It is an entirely different market than traditional fantasy sports. It is it's own market, run & dominated by DraftKings & FanDuel.
Fuel to the fire
At the end of January, Fantasy Aces filed for bankruptcy. Given that the FTC must now remove their revenues from the market share calculations, it's likely that DraftKings & FanDuel's share goes from 95% to around 97%.
This wouldn't make a material difference as such, but given that the two company's lawyers have argued that it's not difficult for new companies to enter the market, Fantasy Aces shutdown will suggest otherwise. Any new company in the future will also have to deal with increased regulatory obligations that are sure to arise following the news that Fantasy Aces was mixing player & operational cash.
Summary
The combination of worrying delays from the FTC, the market share & price fixing power of a merged company & the dangerous precedent set by Fantasy Aces that cries for further regulation puts the whole merger at risk.
As a stakeholder in the DFS industry, a failed merger wouldn't be a great outcome for us, especially if it led to the companies failing: a rising tide lifts all boats. However, a monopoly would destroy competition, so it's hoped the FTC will impose on favourable terms for the industry as a whole for a merger to go ahead.
About the author: 
Yousif Al-Dujaili is Head of Growth & Marketing at Dribble, a one-day fantasy football game in the UK that users can win cash on.  He holds an LLB from the University of Leeds & completed his Legal Practice Course at BPP Law School.