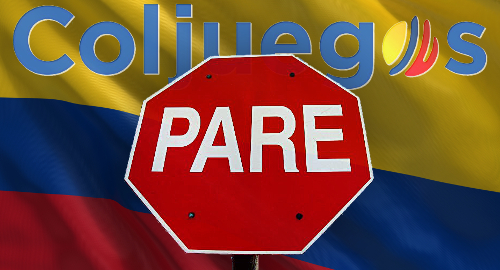 Colombia has announced plans to block over 300 online gambling domains in a bid to boost interest in its regulated online gambling market.
Last week, Colombia's gambling regulator Coljuegos asked the country's Ministry of Information Technologies and Communications to block 325 online gambling domains from beaming their signals into the country. The naughty domain list is a who's who of the online industry, including familiar names like 888, Bet365, PokerStars, Unibet and William Hill.
Colombia has taken a more proactive route to online gambling regulation than most of its Latin American counterparts, having approved online gambling legislation last October. But a punitive 19% value added tax applied to player deposits left most operators convinced that applying for a Colombian license was a waste of time.
The Colombian government demonstrated a rare willingness to respond to operator concerns by scrapping the VAT requirement in December but the change failed to result in the expected flood of new license applications. Coljuegos president Juan Pérez Hidalgo recently complained that unauthorized online operations were depriving the government of over $100m in lost revenue on an annual basis.
While many operators will simply redirect Colombian punters to mirror sites, Coljuegos believes its regulatory combination of carrot and stick will ultimately convince more operators to ante up the roughly COP 600m ($202k) online licensing fee – based, bizarrely, on 811x the country's monthly minimum wage – and go legit.
Domain blocking remains a fashionable tool for governments around the world seeking to boost the fortunes of their domestic gambling markets, although its efficacy leaves something to be desired.
Colombia has also upped its enforcement against illegal land-based gaming operations, increasing its seizure of illegal gambling equipment by 26% last year. The seizures are part of a three-pronged strategy Coljuegos has adopted to bringing illegal gambling to heel: police enforcement, regulatory reform and raising public awareness of the distinction between illegal and legal gambling operations.