3: Barrels of a World Poker Tour flavour including an award for Linda Johnson; a new beginning in Beijing, and Darren Elias wins his third title in Fallsview.

Three stories with the World Poker Tour (WPT) acting as the baby spittle holding them all together and we begin with a new concept: The WPT Honors Award.
WPT Prez Adam Pliska will announce award winners on a need to award basis, and the first recipient is the First Lady of Poker, Linda Johnson.
World Poker Tour announces WPT Honors Award, with Linda Johnson named as first recipient. https://t.co/Vler6pOOS4pic.twitter.com/i2c7vCnzbS

— World Poker Tour (@WPT) February 23, 2017
Johnson is a poker pioneer thanks to her early work in promoting the WPT to a broader audience via casinos and TV. Johnson served as the studio commentator for the WPT for the first six seasons.
The WPT created the new award to celebrate 'outstanding contributions to the WPT and the greater poker community.' The American Poker Awards (APA) may have snubbed Mike Sexton, but he will almost certainly find one of these on his mantlepiece in due course. Steve Lipscomb, Matt Savage, Carlos Mortensen, and Gus Hansen are also favourites.
Pliska paid tribute to Johnson in a press release stating she 'played a unique role in helping shape the World Poker Tour and she embodies all that the WPT stands for.'
The WPT will honour Johnson during a private dinner on Monday 27 February.
The WPT Set to Host First Main Event in China
It's thanks to people like Johnson that the WPT can host events globally, and in April 2017, the tour takes the Main Event to mainland China for the first time.
WPT Beijing is the first event of the new Season XVI. It takes place April 15-19 at the NUO Hotel Beijing as part of the 2017 Ourgame Chess & Card Festival.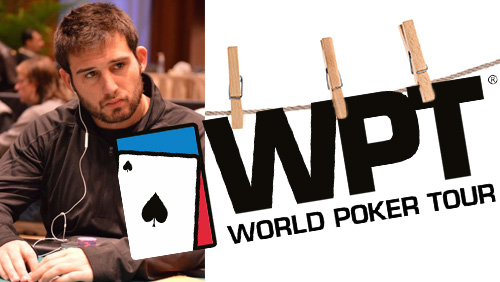 The event has a 400 player cap, and players can qualify online through Ourgame PokerWorld. The move into mainland China is huge for poker and comes five years after WPT & Ourgame began hosting WPT National events in Sanya.
The 2017 Ourgame Chess & Card Festival features games such as Bridge and Mahjong. International players who are looking forward to a trip to Beijing are urged to contact [email protected] for further information.
Ourgame International Holdings Ltd acquired the WPT in June 2015 for $35m in cash, after working with them on the Sanya project. Ourgame has over 500 million users and is a huge player in the Asian market.
Darren Elias Becomes a Three Time WPT Champion
Global Poker League (GPL) Sao Paulo Mets star, Darren Elias, has won a third WPT Main Event title after topping a 428 entrants field, a record for a live event at the Fallsview Casino, beating last season's record by five entrants.
Won it. Thanks for all the support! Also first oversized check #wptfallsview#happygilmorepic.twitter.com/xVCyXawFrc

— Darren Elias (@DarrenElias) February 25, 2017
Elias joins a small band of merry men who have each won three WPT Main Event titles: Carlos Mortensen, Gus Hansen, Anthony Zinno, and Chino Rheem. Elias is a beast on the WPT Main Event scene having reached the final table on seven different occasions. He is the only player to have won back-to-back Main Events in a single season (Marvin Rettenmaier achieved the same feat spanning two seasons).
In Season XIII, Elias finished runner-up to Anthony Zinno in the WPT Player of the Year race, and that's the position he occupies after his recent win. Benjamin Zamani holds the lead. Elias may have to be content with second again; his wife is due to give birth any day now.
Final Table Results
1. Darren Elias – $335,436*
2. David Eldridge – $224,613
3. Jean-Christophe Ferreira – $144,465
4. Andrew Chen – $106,865
5. Manig Loeser – $80,149
6. Abdull Hassan – $64,316
*Includes a seat into the WPT Tournament of Champions
Comments