Betting firms in Kenya are up in arms over a proposed law to regulate gambling in Kenya.
The Daily Nation reported that members of the association of betting firms in Kenya are opposing the proposed law of Gem Member of Parliament Jakoyo Midiwo to regulate gambling, which they believe will do more harm than good to the industry.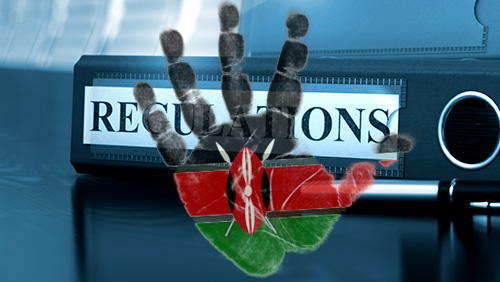 Calling the bill "misguided," the group's representatives asked a National Assembly committee to defer it until after consultations and a compromise can be reached.
"The Bill requires significant amendments. It would not be the same Bill as it was at the first reading," Association of Gaming Operators of Kenya chairman Ronald Karauri said, according to the news report. "There appears to be a concerted targeting of the industry through measures that are designed to cripple the industry," Mr Karauri said.
Midiwo's Bill proposes to increase betting tax from 7.5 per cent to 15 per cent of revenues, lottery tax from five per cent to 20 per cent of their turnover, gaming tax from 12 per cent to 20 per cent of revenue and prize competition tax from 15 per cent to 20 per cent.
Karauri believes that the draft law, which had its second reading on Thursday, would breach the Constitution and make it difficult to run gaming companies.
He also shot claims that gambling is addictive, telling the committee on social welfare that "it has never been scientifically proven that betting is addictive."
The group then presented a police report debunking the claims on social media and by one media house that a person committed suicide after losing a bet.
"It is my personal belief that if there was a problem with betting, it would not grow," Karauri said.
Then there's a problem on taxation, according to Karauri, since the amendment to the law on the taxation last year had led to double taxation — on revenue and then on their profits.
He said taxing revenues and profits would begin on February 20. One betting firm paid Sh700 million (US$6.8 million) in 2015, according to the group, which surprised the members of the committee.
"Kenya Revenue Authority say they don't know about taxes, yet they are aware that they have been collecting significant revenue," he added.
The committee is willing to negotiate on the desired amendments but they can no longer defer the bill.
"There is some urgency in the matter," David Were, the committee chairman, said.
Cherangany MP Wesley Korir (independent) said: "We cannot just say that we defer. Bring your proposals. Let's sit again. Let's talk again. Let's become friends and we deal with this."
Comments