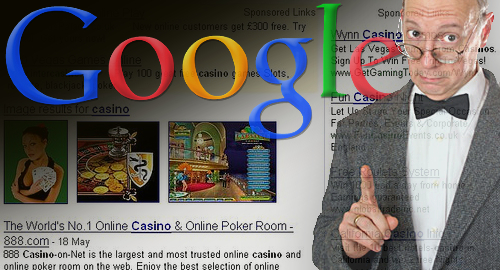 Gambling advertisements accounted for 1% of the "bad ads' that technology giant Google took exception with in 2016.
On Wednesday, Scott Spencer, Google's Director of Product Management, Sustainable Ads, posted a blog about how the search engine mainstay "fought bad ads, sites and scammers" in 2016. Spencer said Google took down 1.7b ads that violated its advertising policies in 2016, up from 780m ads that were found objectionable in 2015.
Among those ads earning Google's ire were over 17m "gambling-related promotions without proper authorization from regulators in the countries they operate." Spencer said Google saw "more attempts" to sneak these gambling ads past the gatekeepers in 2016 but offered no more specific comparisons with 2015's figures.
While gambling's bad ad number sounds massive, it pales in comparison to the 68m ads that violated Google's healthcare policies, a 500% increase from the 12.5m in 2015.
Google took down nearly 80m ads for "deceiving, misleading and shocking users," including clickbait disguised as medical information. Detection and disabling of so-called 'trick to click' ads, which pose as system software warnings but which cause users to download malware, were up six-fold to 112m.
Google found a "huge" increase in "self-clicking" ads on mobile platforms, which redirect users to app stores and begin downloading apps without a user's permission. Google said it encountered "only a few thousand" self-clicking ads in 2015 but detected and disabled over 23k of these ads last year.
Efforts to circumvent Google's automated gatekeepers were also on the rise in 2016, resulting in nearly 7m ads taken offline for intentionally attempting to trick Google's detection systems.
Last year also saw the rise of 'tabloid cloakers,' aka scammers that frame their ads around timely topical items but which ultimately lead consumers to crap like weight-loss products, not news. Google suspended over 1,300 accounts linked to tabloid cloaking last year, including 22 cloakers in December 2016 whose ads were viewed over 20m times in just one week.