Despite the government's tightened grip on the rampant, unauthorized use of China UnionPay's card system, authorities are reporting that the number of retail transactions using unregistered UnionPay point-of-sale terminals in the city state has more than quadrupled in 2016.
The city state's Judiciary Police estimated that unauthorized China UnionPay transactions have reached MOP4.995 billion (USD626.5 million) last year, GGRAsia reported. That amount is about four times more than that MOP1.22 billion (USD153 million) calculated for the full year of 2015.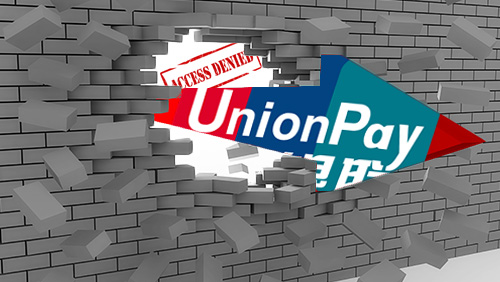 Macau police told the news outlet that they have conducted a total of 25 investigations involving unregistered UnionPay handheld terminals last year—20 of which were forwarded to the Public Prosecutions Office "for further action," while the remaining five probes didn't move forward as cases due to "lack of evidence."
The police linked 53 people in the investigation: 14 from Macau, 38 from mainland China and one from Hong Kong, according to the report.
Several weeks ago, Macau authorities arrested 23 people following investigations of 13 retail shops. In eight of the shops, police seized UnionPay terminals that investigators said had been modified "for gaming purposes" to process transactions as if they were occurring on the Chinese mainland. The retail shops were registered as jewelry or electronic equipment sales outlets but a police spokesperson said the shops were suspected of conducting "pawnshop-like" business.
"In recent years, several pawnshops and jewelry shops here have used the [modified] mainland Chinese UnionPay POS units to offer clients access to cash withdrawal services, with the aim of lowering their own operation costs and enhancing profits," Macau Judiciary Police told the news outlet. "From what we understood, the money that these clients withdrew [via modified POS units] was mostly for gambling."
Pawnshops in Macau are infamous for deriving a huge chunk of their business volume through transactions that disguise cash advances as product purchases. Other scams involve the actual purchase of a high-value item via UnionPay, after which the customer returns the items in exchange for cash.
In December, the Monetary Authority halved the amount that UnionPay card holders could withdraw in a single transaction, although it stressed that the daily withdrawal limit would remain at its previous level. China UnionPay, on the other hand, maintained that its policies on international cash withdrawals on cards issued on the Chinese mainland "remain the same" and the daily withdrawal limit of RMB 10,000 and the annual limit of RMB 100,000 imposed in January 2016 still applied.