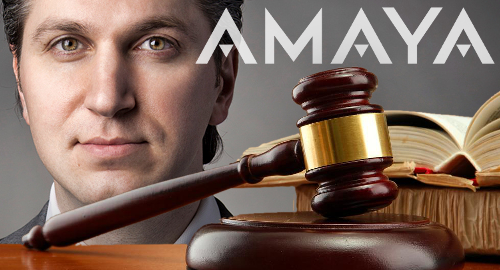 Canadian online gambling operator Amaya Gaming has lost a procedural skirmish in a class action suit brought by aggrieved shareholders.
In a ruling handed down last Friday, Quebec Superior Court Justice Babak Barin ordered Amaya to provide two representative plaintiffs with the company's general liability, errors and omissions, and directors' and officers' liability insurance policies.
Amaya was hit with a number of shareholder class action lawsuits last spring – some in the United States, others in Canada – after former Amaya CEO David Baazov (pictured) was charged with illegal insider trading, including ahead of Amaya's blockbuster deal to acquire the parent company of PokerStars in 2014.
The charges caused Amaya's shares to lose one-fifth of their value in a single day. The class action suit claimed the insider trading charges had exposed deficiencies in Amaya's internal controls and that Amaya had a duty to disclose Baazov's stock trading activity.
The Quebec Superior Court suit was filed by representative plaintiffs Pierre Derome and Jacques Lemelin, the latter a day trader. Amaya argued that the pair's request for the insurance info was "premature and exaggerated."
Canadian Underwriter quoted Barin's ruling, which said the plaintiffs should be given "early disclosure" of the insurance policies so that they can "make informed, sensible and pragmatic decisions" on how to proceed, "including perhaps the possibility of amicably resolving the matter in question."
Class action lawsuits are the barnacles of the corporate legal world, in that they're generally more of an annoyance than an existential threat. There's also the small matter that Baazov continues to fight his charges, and the Quebec securities regulator's case against him has some rather large holes that Baazov's lawyers are eager to exploit.
Regardless, the unfavorable ruling is another indicator that Amaya's 2017 will continue to be plagued by the same type of distractions it endured in 2016, at least on the legal front.