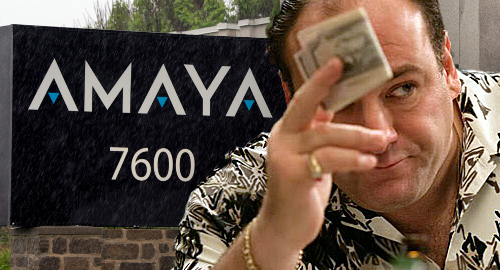 Canada's Amaya Gaming has worked out a deal on a deferred payment owed to PokerStars' former owners that won't require the company to issue new equity.
On Monday, Amaya informed shareholders that it had figured out a plan to pay the remaining $197.7m of the deferred purchase price of the Rational Group, which Amaya acquired from founders Isai and Mark Scheinberg in 2014 for $4.9b.
Under the terms of that deal, the Scheinbergs received $4.5b upfront, with the remaining $400m due by February 1, 2017. Last October, Amaya revealed that it had about half of this sum in ready cash, but was exploring "various non-dilutive options to pay the balance" by the due date.
Amaya now says it will pay the nearly $200m outstanding over the course of this year from unrestricted cash on its balance sheet and cash flow from operations. The deal was made possible after the Scheinbergs agreed not to enforce their right to compel Amaya to use "commercially reasonable efforts to issue equity" to honor its debt obligations.
In exchange for being let off the hook, Amaya has agreed to give the Scheinbergs three months of non-refundable late payment fees. These payments will be made in advance on February 1, with the possibility of additional fees should Amaya fail to make good on its new repayment commitments.
Amaya's deferred payment obligations could have been much higher had Russia decided to formally approve online poker operations within its borders. Had Russia passed online poker legislation before the payment came due, Amaya would have owed the Scheinbergs $550m. Conversely, had Russia moved to explicitly criminalize online poker – as opposed to just ordering its telecom watchdog to block dozens of PokerStars-related domains – Amaya's deferred obligation would have dropped to $300m. So both thanks and thanks for nothing, Putin.
Amaya must be hoping that the new deal with the Scheinbergs is a sign that 2017 will prove less contentious than the previous 12-month stretch, during which the company lost its CEO to an insider trading scandal and endured multiple failed efforts on the mergers and acquisitions front. These items distracted from the company's desire to celebrate the ongoing diversification of its flagship PokerStars site away from its pure poker roots into casino and sports betting.