Risk-averse traders, who have given up on the weakening Chinese yuan, have pushed bitcoin to a new all-time high.
Bitcoin's price reached $1,140.64 on Wednesday, breaking the $1,137 price it hit in November 2013. In December, the popular digital currency also surpassed its all-time high in total market capitalization, and has since surpassed $16.1 billion.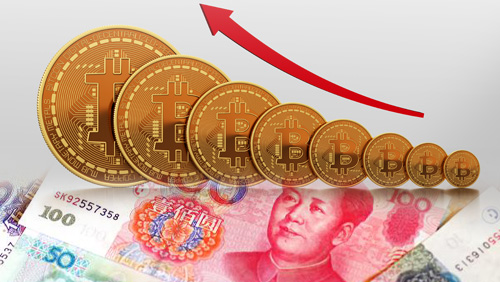 The digital currency, which turned eight years old this year, has been gently appreciating since 2016, thanks to demand from traders in China as well as other parts of the world where traditional currencies are tightly controlled. China, where majority of trading occurs, saw an increase in demand for bitcoin as the pressure on the Chinese yuan weakens. India's demonetization efforts and recent crackdowns on moving money abroad have also prompted a massive adoption of the cryptoccurency in the country.
Analysts expect the demand for safe haven assets like digital currency to drive bitcoin's value up in the coming months. After all, traders have been calling bitcoin a "safe haven" asset that shows its strengths as an investment vehicle "in times of macroeconomic uncertainty."
"It shows that more and more people are confident in the currency," Genesis Mining CEO Marco Streng told Bloomberg. "They see the benefit of bitcoin and other cryptocurrencies. This will inevitably accelerate the growth of the whole economy."
MUFG to issue own virtual currency in March 2018
Japan's Bank of Tokyo-Mitsubishi UFJ Ltd. finally has a launch date for its own digital currency.
Last year, the bank said it is planning to launch its MUFG coin—short for the bank's parent company, the Mitsubishi UFJ Financial Group—"as early as autumn 2017." Now, Kyodo News reported that the bank will issue the virtual currency by March 2018.
The coins will be issued first to employees of Mitsubishi UFJ Financial Group's companies, which they use for domestic remittances. The services will be extended in the future "to attract younger tech-savvy customers," sources told the Japanese news agency.
Current bitcoin price and trade volume
The price of bitcoin dropped slightly to $1,124 early Thursday morning, with a trade volume of $72.41 million.
Comments