Maurice Hawkins has set a new World Series of Poker Circuit record after winning his third Main Event in 2016, and his eighth gold ring overall. Matthew Wright joins him in the Global Casino Championships final after earning Casino Champion honours in Palm Kennel Beach.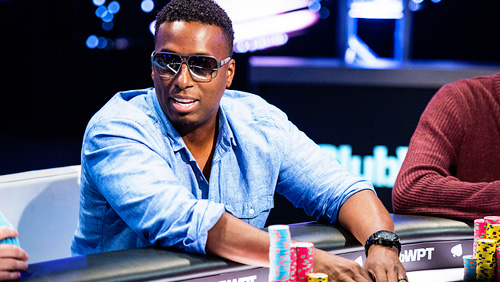 When it comes to setting goals in poker, Maurice Hawkins, doesn't believe in all of that SMART nonsense – he takes a simplified approach.
"I want to win everything."
Hawkins made his intentions clear after creating World Series of Poker Circuit (WSOPC) history for the second time in seven months. In April, Hawkins became the first player to win back-to-back WSOPC Main Events after taking down 321 and 1,008 player fields in Council Bluffs and Cherokee. A few days ago, he set a new record of winning three WSOPC Main Events in a calendar year with a victory at the Palm Beach Kennel Club, Florida (Blair Hinkle & Chris Ferguson have won three WSOPC Main Events but not in a calendar year).
"Three in a year beat that," Hawkins told WSOPC officials after his win.
Playing in his hometown of West Palm Beach, Hawkins took down a 261-player field to earn his eighth WSOPC gold ring. He ties with Valentin Vornicu, Ari Engel and Chris Reslock who also have eight rings. Alex Masek is the undisputed king of them all with nine. It is his fourth ring of 2016 after also winning a $365 No-Limit Hold'em Monster Stack event in Council Bluff.
Hawkins defeated 261 entrants in his latest victory including a final table that housed the 2014 WSOP Monster Stack final tablist Joshua Hillock and WSOPC gold ring winner TJ Shulman (who picked up his ring in the Palm Beach Festival only days earlier).
His $95,921 first prize takes his all-time WSOPC career earnings over the million dollar mark. Only Chris Ferguson has accomplished this feat, and the carrot slicer set the record when the buy-ins were a lot higher than today. Hawkins all-time earnings rise to $2.35m.
Hawkins was nursing the baby stack by the time he reached the unofficial final table. Not that he cared. There was only ever one winner in the mind of the confident Hawkins.
"We don't need to explain who won. We all know when he got to the final table he was going to take it down." Hawkins said of himself.
Final Table Results
1. Maurice Hawkins – $95,921
2. Khoan Ho – $59,265
3. Joshua Hillock – $42,818
4. Lacy Wills – $31,512
5. Filipp Khavin – $23,607
6. Ryan Chase – $17,989
7. T.J.Shulman – $13,937
8. Jason Bullock – $10,974
9. Bryan Rosen – $8,777
Hawkins wins a seat into the 2016/17 Global Casino Championships $1m Freeroll. Accompanying him will be Casino Champion Matthew Wright.