There are WSOP Circuit events and there are huge, major title WSOP Circuit events. One of the latter was won in stunning style by the 'Zero to Hero' champion Erik Gorman at Harrah's in Cherokee.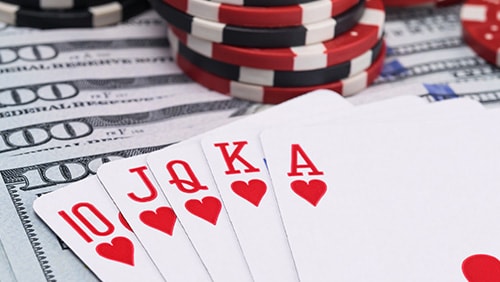 With over 1,000 entries into the million-dollar guaranteed event, Gorman took down a top-quality final table and helped himself to the lion's share of the $1.5 million prize-pool, that guarantee smashed by the vast number of entries paying $1,700 to take their seat to the event.
With nine players reaching the final table, the final day actually started with 15 players in the mix. Amazingly, Erik Gorman was last on the leaderboard when play began, but within a few hands of the dealers being told to 'shuffle up and deal', things had changed dramatically for the glass blower from North Carolina.
Gorman doubled up twice in the opening two orbits of the action to put himself right back into contention. By the time the final table of nine had been reached, the 43-year-old had the chip lead and would bust Randall Rothwell in 9th place, Gorman's pocket tens holding against Rothwell's suited ace-jack.
With eight remaining, Gorman was content to watch a few of his challengers do battle amongst themselves. Ken Aldridge, who already has a WSOP bracelet to his name, departed when his pocket kings were no match for Michael Kassem's pocket aces, and Kassem would bust another bracelet holder in Kyle Cartwright in 6th place.
With five players remaining, suitably-named Hannah Guthrie must have thought her name was on the – admittedly very small and finger-encircling – trophy. She found pocket aces too, and made full use of them, busting the unfortunate Fikret Kovac, whose king-queen couldn't overtake Guthrie's rockets.
Gorman got involved again with four remaining in the hunt, picking up the magical pocket tens again, and all-in against Ryan Jones' ace-jack, saw recent history repeat itself, those tens holding again to bust a player and send play three-handed.
Michael Kassem knew he needed to chip up to stand a chance heads-up, but his all-in move with queen-ten off-suit was called by Gorman's ace-jack, and his ace high was enough to take the pot and give the eventual winner a 17 million to 13 million chip lead. It was narrow, but it was enough.
Guthrie went for it, even taking the lead early on in the final duel. She was just one river card from the title when another all-in proved her ultimate downfall. With a made flush against Gorman's paired hand and paired board, Guthrie couldn't avoid the full house on the river, and in the next hand, Gorman's ace-queen was easily enough for him to call Guthrie's shove with ace-three.
A huge field had been whittled down to just one man, and an emotional and almost disbelieving Erik Gorman was delighted to take home the top prize of $260,480 and the well-earned WSOP Circuit Championship Ring.
WSOP Circuit Harrah's Cherokee final table results:
| | | |
| --- | --- | --- |
| Rank | Player | Prize |
| 1st | Erik Gorman | $260,480 |
| 2nd | Hannah Guthrie | $160,978 |
| 3rd | Michael Kassem | $120,770 |
| 4th | Ryan Jones | $91,459 |
| 5th | Fikret Kovac | $69,920 |
| 6th | Kyle Cartwright | $53,698 |
| 7th | Marshall White | $42,058 |
| 8th | Ken Aldridge | $33,098 |
| 9th | Randall Rothwell | $26,304 |