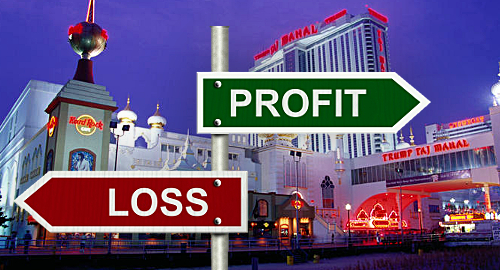 Atlantic City casinos struggled to turn operating profits through the third quarter of 2016, partly due to struggles at the now dormant Trump Taj Mahal.
Figures released Tuesday by the New Jersey Division of Gaming Enforcement (DGE) show total revenue at the city's eight gaming venues rising 0.7% to $2.71b in the nine months ending September 30. Combined gaming revenue was up 1.1% to $1.93b.
Room revenue was also up 1.1% to $320.2m despite occupancy falling 0.7 points to 82.3%. Food & beverage revenue was down 1.9% to $335m while entertainment & other (concerts and shows, spas, retail sales, etc.) gained 1.3% to $118.1m.
Three casinos managed to post year-on-year gains in operating profits, led (as always) by the Borgata's profit of $144.5m, up 18.4% over the first nine months of 2015. The Golden Nugget gained 23.5% to $15.7m, while Resorts improved 23.2% to $7.3m.
Among the profit decliners, The Tropicana fared best, falling just 3% to $22.1m. All three Caesars Entertainment properties reported reduced operating profits, with Caesars down 6.7% to $42.9m, Harrah's off 10% to $25.8m while Bally's saw its operating profit fall nearly by half to just $8.8m. The Caesars properties were negatively impacted by "wage inflation pressures,' according to Fitch Ratings analyst Colin Mansfield.
The Trump Taj Mahal, which closed its doors in mid-October, had been picketed by its unionized workforce since the July 4 holiday weekend. The bad publicity didn't help the bottom line, as the property's operating loss nearly doubled to $11m. The labor woes were particularly reflected in the Taj's Q3 operating loss of $8.9m compared to a $12m profit in the same period last year.
Mansfield claimed Atlantic City's market had more or less stabilized from the collapse of the past few years that has witnessed five casinos close their doors. Mansfield predicted the market would continue to perform at its current level until the new upstate New York casinos open their doors in 2017.
Comments