UK bookmaker Coral and B2B software provider, Digital Sports Tech, have partnered to launch a new 'Player Bets' app that allows punters to bet on the individual performances of players.

Peter Drucker once said that the purpose of business is to create and keep a customer, meaning that the client is the start of the process, and this vital fact often goes missing when companies gather around the whiteboard to search for the next innovative project.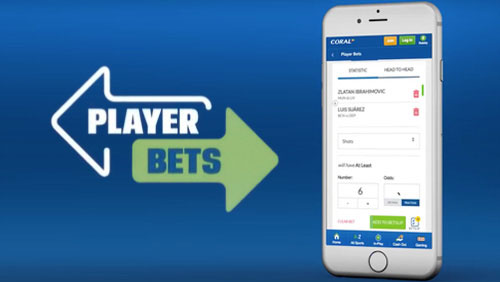 Thankfully, this didn't happen when Digital Sports Tech got their Post-It Notes out and started scribbling.
We have been gambling since we climbed out of the primordial soup. I  imagine the first bet went something like this.
Caveman 1# – "There is a lot of meat on that deer carcass. We need it."
Caveman #2 – "But the Sabre Tooth Tiger might be back to finish it."
Caveman #1 – "I bet you can outrun a Sabre Tooth Tiger."
Slowly but surely this morphed into your classic 'team bet' that you see today where the options are either to win, lose or draw.
And then came the great sports betting earthquake that changed everything – in play sports betting.
So what next?
Digital Sports Tech has the solution, and UK Bookmaker Coral are the first to recognise its impact.
Digital Sports Tech & Coral Offer Player Prop Betting
Digital Sports Tech as unearthed a new market that allows the punter to bet on individual athletic performances and Coral are the first to offer the product to their customers.
The new player based betting format takes its roots from Daily Fantasy Sports (DFS). Here is the nutshell version of events.
Step #1: The customer decides to create a player prop bet e.g. Zlatan Ibrahimovic will have 7 or more shot on target versus Burnley.
Step #2: The system calculates the odds.
Step #3: The bet is booked, and you win or lose.
The app allows you to combine bets, for example, that Zlatan Ibrahimovic and Marcus Rashford will have 10-combined shots on goal between them in that same Burnley match. Or you can go head to head and bet that Zlatan will have more shots on goal than Rashford.
Sports offered at the moment include football, rugby league, basketball and American football.
Digital Sports Tech top dog, Ari Lewski, believes his team have tapped into a goldmine.
"It gives users the power to create and personalise their own player bets will change the actual experience of betting for many fans and will also provide them with a far deeper level of engagement with the sport."
Player Bets went live on Coral's platform on Friday.