Industry's biggest player prop offering available through low-latency feed
Thursday 4th April 2019: Digital Sports Tech (DST) has underpinned its position as the industry's leading provider of player prop betting markets with the launch of its Player Props Data Feed, a first-of-its-kind service which enables sportsbook operators to significantly scale and enhance their offering in what is one of sports betting's fastest-growing segments.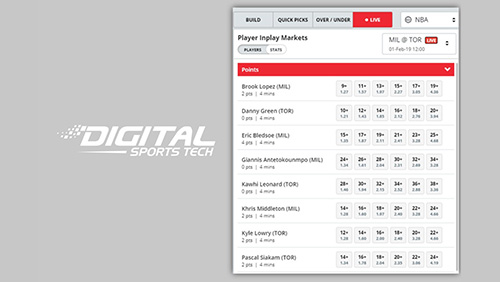 Following a seamless integration via DST's low latency API push service, operators will have access to the most expansive range and variety of player prop betting markets in the industry. They will also enjoy access to lines and prices that are traded 24/7 around the clock based on the latest news and relevant betting intel, in addition to settlement results for all originated prop markets.
This unrivalled betting feed not only provides up to 900 pre-match markets per game but also includes DST's ground-breaking and world-first in-play player props offering. In respect of coverage, DST's Player Props Data Feed includes all the major US sports (NBA, NFL, MLB, NHL), including NCAA college football and basketball, as well all the top tier European Football leagues and Australian Rules Football.
The betting markets made available to sportsbook operators enable their customers to wager on the statistical performance of the world's biggest sports stars, such as LeBron James to finish with 30+ points, Cristiano Ronaldo to have 3+ shots on target or Tom Brady to throw for over 300 passing yards. Other available markets include head-to-head player matchups, player performance doubles as well as a diverse range of pre-packaged same-game accumulator markets which are not only extremely popular with bettors, but also generate strong returns for operators.
DST's Props Data Feed is powered by its industry-leading props platform and pricing engine, which combines advanced mathematical and predictive modelling with proprietary algorithmic-based odds generation. DST also utilise its experienced team of traders and sports analysts who provide oversight across its entire offering to ensure the best and most accurate prices for its customers.
Ari Lewski, Executive Director at Digital Sports Tech, said: "Player props as a betting segment continues to grow at a steep trajectory and is fast becoming an integral part of any sportsbook's offering. Reason being, props offer a different type of betting experience for users, and one that many would say is more enriching and provides a deeper level of engagement in the games, which in particular appeals directly to millennials.
 "What our data feed services does is give operators the opportunity to provide a first-class player props offering that is unmatched in terms of the breadth and variety of markets on offer and do so without investing any additional manpower or effort.
 "With hundreds of new and exciting betting markets provided across all major sports and competitions, with DST's Player Props Data Feed operators will be able to target and convert the next generation of sports bettors, and in turn generate greater levels of turnover."
Digital Sports Tech is the market leader and preeminent supplier of player prop betting solutions to the global sports betting industry. The company has built a strong reputation for servicing sportsbook operators, with more than three years' experience operating in this niche segment, specialising in originating, pricing and settling player performance betting markets.
It operates a purpose-built proprietary platform that utilises state of the art technology to offer competitive pricing, combining advanced machine learning and predictive models with its team of highly-experienced sports analysts and traders.
For more information visit http://www.digitalsportstech.com/.