Lee Davy spends 25-minutes talking to the Global Head of Poker Partnerships at Twitch, Scott Ball, about poker's popularity, how to make it even bigger, and who are the potential stars of the future?
*To download this audio, right click and save link as*
Look around.
Have you noticed a change in direction led by the online poker rooms?
They are signing more sponsored players.
Now, this is an unusual step because it wasn't that long ago that the online poker rooms were cutting costs and sponsored players contracts looked like low hanging fruit.
So what's changed?
Poker players are becoming valuable assets to online poker rooms because they are making poker fun again while creating large and faithful audiences on the streaming platform.
I needed to speak to someone about this and who better than the Global Head of Poker Partnerships at Twitch, Scott Ball.
What follows is an abridged version of the full interview which can be streamed or downloaded right above this transcript.
Had did you get your job with Twitch?
"I created it. There was an event called Evo, probably three years ago in Las Vegas, and takes place right around the same time as the Main Event at the World Series. I had been in the eSports space for a long time, and I presented to some of the Twitch executives that I had known for some years that they should try this poker thing. As soon as the acquisition happened, they were happy to give it a try."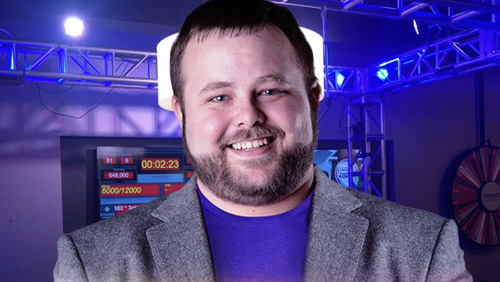 Why Poker?
"I have been playing poker for 6-7 years. It's such a fun game, and when I first got into it, I watched a bunch of TV shows to improve my game. I started watching Poker After Dark, but after a while, I was bored.
"Then I saw a show starring Phil Laak and it was fun to watch. So I started looking at a bunch of shows with Phil Laak in and I also liked Patrik Antonius. Then I realised all poker content is the same. The eSports space was looking for different content; different leagues, and different formats.
"I was pretty confidence that if poker was on Twitch and you gave the brilliant people a platform they would figure it out and make a good job of it, and that's what has happened. It's so much more entertaining than the traditional TV model."
Antonius and Laak are two very different personalities, do you need a combination of both to be an excellent Twitch streamer?

"If you were going to the poker directory now there would be 40-50 people streaming poker content. If you wanted to watch a cool, calm, and collected guy talking about the analytics of poker then, you could watch that. If you want to watch someone off the wall and funny you can get that. I think it's important to have variety and important that the broadcaster explains what niche they want to fill. It's hard to be a jack of all trades."
What should poker players be concentrating on if they are considering starting a Twitch stream?
"The most important thing when you are starting out on Twitch, or any new endeavour in life is to figure out why you are doing what you are doing and what you want to accomplish? Goal setting is important, and it should take a while to go through your goals setting process. Am I streaming on Twitch because I want to attract the big sites? Do I want to have fun? Do I want to grow the game? What am I trying to accomplish? Once they have figured those questions out, the sky is the limit.
If I want to grow poker, then this is how I am going to do it. If the broadcaster approaches this from the angle of figuring out the end goal and working back from there, they will be fine."
Who are the up and coming stars?
"There are so many of them. Tonkaaaap is an amazing story. Both him and Jamie Staples didn't have a large fanbase before they started streaming and they have exploded. I would love to see someone like Maria Ho streaming more because I think she has a lot to offer. I believe that Doug Polk with the right mindset and approach could have a huge following on Twitch.
"Kevin Martin has a lot of potential and should be very inspiring to people because he started playing $1 buy-ins and now has a Stars sponsorship. He has put in the work. Jeff Gross is growing quickly and had Michael Phelps on his stream the other night."
What is good content?
"That is in the eye of the consumer, but I think consistency is key. I know the Walking Dead is on Sunday night at the same time every week. You want a Twitch stream to be like that. You should try and approach it very systematically. You have to enjoy it. If you stream because you have to, it shows, and if you love it, the content will shine through. Streaming is not for everyone. I remember talking to Chris Moorman when I first got into this. I have a lot of respect for Moorman, but in the end, he looked at it and said, "I don't think I will enjoy doing it," and so I told him not to."
"Tournament poker is great content because there is a storyline to it. Cash games are a bit tougher because there isn't the same constant story like a tournament has. Having a story and goals is important."
What could poker do to become even bigger on Twitch?
"I have just hired someone else to join the poker team, and someone else will join in a few months. The broadcasters need more attention from me and other Twitch staff. I am now focused on poker and making this team bigger. As they get more support from us, that will help.
"The way I see poker on Twitch right now is akin to a small pond. It's nowhere near where it can be and where it should be. It will grow so much more and as it does new stars will rise. We need more content creators and the ones that are growing need to keep growing.
"It's not about being the number one Twitch streamer right now. It's about making this pond the size of the Pacific and then be the biggest streamer because that's when it will matter. Jason Somerville has been so successful because he knows it's about growing the Twitch poker community and not just the jcarver community. If everyone does that, it will get a lot bigger long term, and everyone will get a lot more money."
Who would be an excellent Twitch streamer?
"If there were a Phil Laak stream, I would be his first subscriber. Jennifer Tilly would be excellent, Fedor Holz would be amazing, and I like the guys at REG. I am a fan of their organisation. I don't know if it would be any good but if Phil Ivey fired up a stream that would be interesting."