Cardplayer.com has been speaking to Michigan State Senator Mike Kowall and the online gambling bill creator is confident that the bill will pass by the end of the year.

With the focus squarely on proceedings on the online gambling space in Pennsylvania, the state of Michigan has thrown their hat in the ring to be the first state to legalise online gambling since New Jersey way back in 2013.
The bill's creator, Senator Mike Kowall, told Cardplayer.com that there was still 'plenty of time' to get the bill underneath the noses of the right people, and firmly believes Michigan residents will be able to gamble online by the time Rudolph is put back into his stable.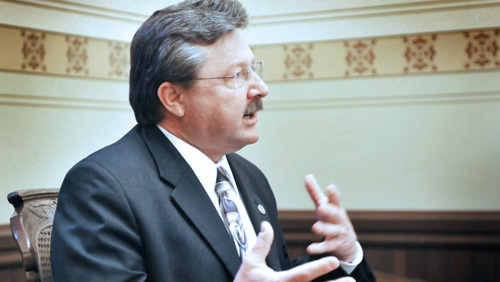 Sen. Kowall first produced his online gambling bill (SB.899) in April 2016 but had been working on it for three years leading up to that point. The first phase of the plan was to legalise the much simpler online lottery. That passed into law in 2014, and it will make it easier for SB.899 to get traction.
The  Senate Regulatory Reform Committee passed the bill by a vote of 8-1, which is not surprising when you consider the bill's co-sponsors Curtis Hertel Jr, Rebekah Warren, Bert Johnson and Marty Knollenberg all have seats on that committee.
The powers to be will return to vet the bill this week, and Kowall is confident that the bill will pass unopposed during final talks in either November or December.
If lawmakers legalise SB.899, its residents will be able to play online poker and online casino games. Casinos hoping to cash in will have to stump up a $5m licensing fee, and pay a 10% tax levy on gross gaming revenue. There will only be eight licenses up for grabs with Michigan-based entities and tribal casinos eligible for application. Also, there is a requirement for the tribes to partially waive sovereignty if they are to get in on the new market.
Detroit's brick and mortar business, including the 23 tribal casinos, drag in close to $3 billion per year in gambling revenue, giving you an indication of the potential of online gambling.
Brett Blackwood Wins the Largest Ever Live Poker Tournament in Michigan's History
If the attendances at the recent Michigan State Poker Championships are anything to go by, the online poker market will do very well thank you very much.
The Mid-States Poker Tour (MSPT) put on one hell of a show, and a 27-year old painter and decorator, Brett Blackwood, can buy a better set of brushes after picking up the $188,314 first prize.
It was only the eighth time that Blackwood had sat down to play a poker tournament. His game of choice is $5/$10 Pot-Limit Omaha (PLO) cash games, but he took a chance in a $250 Satellite and won a seat into the $1,100 buy-in event.
Aaron Massey, who won this event last season, didn't give up his title without a fight. Massey finished seventh for $23,882.
884 entrants created a total prize pool of $884,000, making the advertised $300,000 guarantee look a little silly.
Final Table Results
1. Brett Blackwood – $188,314
2. Cy Church – $114,701
3. Griff Woodman – $74,641
4. Vinh Ho – $51,701
5. Jimmy Ray – $37,663
6. Lars Cole – $28,932
7. Aaron Massey – $23,882
8. Satish Thakur – $19,944
9. Josh Marvin – $16,007
10. Nevada Saad – $12,241