Two LeoVegas players have hit the jackpot playing the popular Mega Fortune Series. The Swedish winners are already making plans for their winnings, including buying a new car, travelling and investing in property and shares.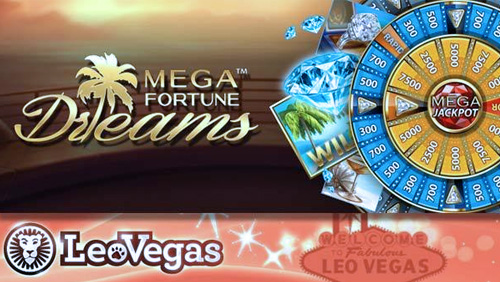 The first winner from Sweden, who wishes to remain anonymous, won over £100,000 playing Mega Fortune on the LeoVegas mobile app. He staked just £5 on the game before going on to take the six-figure jackpot.
The winner said: "I was relaxing in bed after a long day at work when I decided to have a go on LeoVegas. I couldn't believe it when I won the jackpot at first – I definitely didn't get much sleep that night! I've already started looking at holiday destinations and new cars as well as a few apartments!
"I'd played various games with LeoVegas in the past but my new favourite is definitely Mega Fortune. I've never won this big in my whole life!"
The second lucky winner Martin, also from Sweden, won his jackpot playing on Mega Fortune Dreams. The LeoVegas player staked just 18p before going on to win more than £60,000.
Martin said: "I thought I was playing the demo version of Mega Fortune Dreams when I won the jackpot. I logged back in to my account and was shocked to see I'd actually won the five-figure jackpot!
"I've asked my parents to help me invest some of the money in shares. I've been planning to move to France for a while so I'll be able to make the move earlier than I thought now I've got a bit of extra money!"
Shenaly Amin, UK Country Manager, LeoVegas, said: "We are delighted to have another two big jackpot winners and to hear how they'll benefit from the money.
"As well as a great month for big winners, we've also recently launched LeoVegas Live Casino – our real time casino games platform – so it's a really exciting time for us. We love to hear about players who find great success with LeoVegas".
For media enquiries, please contact Rebecca or Will on 0113 887 3308).
About LeoVegas
LeoVegas is a world-class mobile game entertainment provider. LeoVegas runs Europe's fastest and most user-friendly mobile gaming platform offering 700+ casino games, the world's largest suite of live casino entertainment in HD and the all new sportsbook, labelled as the sporting event of the year. With cutting edge technology, innovative data, and a strong entrepreneurial management, LeoVegas has grown to become the gaming provider of choice for thousands of players. LeoVegas is internationally recognized as a leader in mobile gaming and has won several prestigious industry awards, including EGR's 'Slot Operator of the Year 2015', 'Marketing Campaign of the Year', 'Innovation in Mobile and Tablet' and others. LeoVegas is listed on Nasdaq First North Premier, under the ticker symbol LEO. LeoVegas employs a team of 300+ talented people in its offices in Malta and Sweden.