The once mighty Ongame poker network is reportedly not long for this world.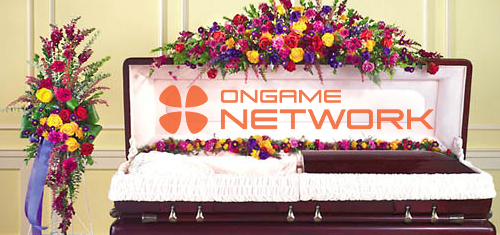 Earlier this month, Russian poker affiliate Pokeroff.ru reported that the Ongame Network had informed its remaining customers that the site would be shutting down effective Oct. 15. On the plus side, the network is reportedly averaging only around 100 customers, so there won't be too many people to disappoint.
Ongame was once a titan in the online poker world, but it never really recovered from its withdrawal from the US market following the 2006 passage of the Unlawful Internet Gambling Enforcement Act (UIGEA).
In 2011, Ongame's owner, sports betting operator Bwin, embarked on its ill-fated merger with PartyGaming. Since that anschluss came with the also-faded-but-slightly-more-healthy PartyPoker brand, Ongame was deemed a 'surplus asset' and the hunt was on for someone to take this lemon off Bwin.party's hands.
In 2012, Canada's Amaya Gaming acquired Ongame, possibly because Amaya was on such an acquisition binge at the time that it may not have realized what it was buying until the morning after. But it represented Amaya's first foray into online poker, which is what we dramatic types like to call foreshadowing.
In November 2014, five months after acquiring PokerStars and Full Tilt, Amaya offloaded the once again surplus Ongame to online gambling tech outfit NYX Gaming Group. Ongame proceeded to weigh down NYX's quarterly earnings with seven-figure losses, until NYX announced this April that it was selling Ongame's European-facing operations to an unidentified party, who apparently has endured enough buyer's remorse to pull the plug.
NYX retained the exclusive rights to use the Ongame brand and software in North America, so there may yet be a reboot in Ongame's at some future date, although it seems doubtful.