Well, he's consistent. Let's give him that.
Sheldon Adelson, one of the richest men in the world, has kicked up yet another poker controversy with his latest anti-poker comments. In a recent interview with Yahoo Finance, Adelson—the man who made his billions off of gambling—insisted that like daily fantasy sports, poker is not a cerebral pursuit, and most definitely, is not a game of skill.
The Las Vegas Sands CEO asserted how he finds it hard to understand "how skill can apply to somebody shuffling a deck of cards and randomly giving them out" to players, telling the news outlet: "You don't have any control over it. Can somebody bluff and can somebody place bets better than somebody else? Yes. But that doesn't make poker a game of skill."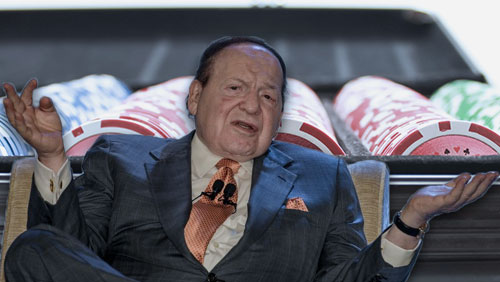 Of course, a comment like this—especially since it came from Adelson, a staunch online poker opponent—will catch the ire of the poker community, some of whom have taken to questioning the businessman's intelligence.
"Sheldon Adelson could be the biggest idiot on the planet," poker pro Jason Mercier tweeted.
Pro player Brian Rast went a step further. Rast, who recently became the second player to win the $50,000 Poker Player's Championship twice, gave Adelson a chance to put his money where his mouth is.
"Hey Sheldon Adelson, waz up? Poker is a skill game. Don't believe me? You're a billionaire, I'm not close. Let's play HU [Head's Up] 4 2 million each," Rast tweeted.
The poker pro also offered to sweeten the pot, telling Adelson that he will pay "500$ 2 play 100bb freeze outs for 2 mil, so if poker isn't a skill game u earning and can prove me wrong."
Online Poker Report's Steve Ruddock, however, pointed out that Adelson didn't actually say "poker doesn't demand skill."
"What Adelson appears to be saying, is, despite the skill element, poker (and DFS) are still gambling, and need to be treated as, and regulated as, gambling," Ruddock wrote, stressing that this is a "very important and nuanced distinction," especially if we're talking about state regulations. Still, it can't be denied that Adelson's statement was not only vague, but was also consistent with his other comments against poker.
As you do, Sheldon.