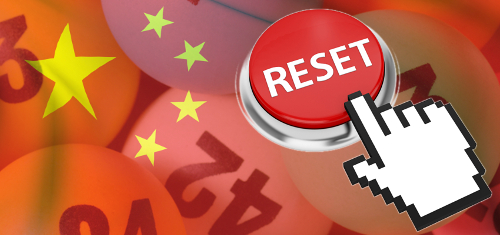 Chinese authorities are sending more signals that they intend to restart online lottery sales this year.
On Thursday, China's Ministry of Finance reported that April's lottery sales totaled RMB 34.9b (US $5.3b), up 7% year-on-year. Welfare lottery sales gained less than 1% to RMB 18b while sports lottery sales jumped 16.6% to RMB 16.9b. For the year-to-date, overall lottery sales are down 1.4% to RMB 125.7b.
April's results helped snap the recent downward trend of China's lottery revenue, which had been on the decline ever since Beijing ordered a 'temporary' suspension of online sales in March 2015. The suspension has wrought havoc with online lottery firms like 500.com, which has now gone one full year without any lottery revenue whatsoever.
The temporary suspension of online sales was ordered following a surprise audit of provincial lottery administration centers, which uncovered widespread fraud via the failure to register all online sales.
Beijing never explicitly authorized online lottery sales but did allow 500.com and Sporttery.cn to participate in a 'pilot program' to test the waters. However, numerous other companies – including internet giants like Alibaba and Tencent – offered online sales through their own lottery portals, leading to a less than uniform regulatory regime.
Last month, Chinese media suggested Beijing was preparing to end the ban by introducing new regulations governing online sales. On Wednesday, five government departments – the ministries of finance, public security and civil affairs, as well as the commerce and sports agencies – issued a joint notice offering further hints of an online reboot.
The government notice stated that future online sales must be centrally managed by the lottery issuer and monitored in real-time. Provincial lottery administration centers will also be required to implement controls in a timely manner and conduct sales according to stated approval procedures. The notice failed to offer any timelines for when the government might officially fire the online starting gun.
The notice also ordered all relevant parties to guard against unauthorized individuals or companies engaging in online lottery sales. The government warned that it intends to "severely crack down" on individuals or internet companies caught flouting these edicts.