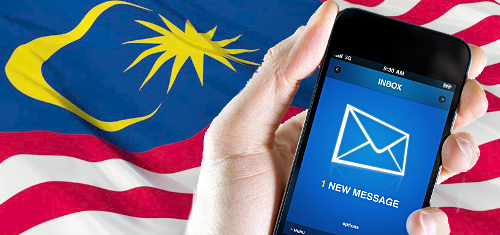 Malaysian authorities have opened a new front in their war against illegal gambling by terminating mobile phone numbers linked to text messages promoting gambling activity.
On Wednesday, the Bernama news agency reported that the Malaysian Communications and Multimedia Commission (MCMC) had ordered local telecom firms to cancel over 8k phone numbers for promoting illegal gambling operations via Short Messaging Services (SMS).
Deputy minister in charge of communications Datuk Jailani Johari said the government had been forced to act after receiving over 400 complaints regarding the gambling text messages since last year. Jailani added that the government had forwarded the offending phone numbers to the police for further investigation.
Last August, the MCMC claimed the rise of SMS gambling promos was an indication of the success the government was having in stamping out illegal gambling websites. Through February of this year, Malaysia claimed to have blocked 399 such sites, putting it on pace to surpass the 2,200 sites it suppressed in 2015.
In February, local NGOs had publicly called on telecom providers to "take proactive measures" to curb SMS gambling come-ons, suggesting they should follow the lead of the banking sector by requiring new users to register mobile phone numbers using fingerprint authentication to ensure the authorities knew who was using the accounts.
Responding to a senator's inquiry as to what special measures the government was taking to combat illegal gambling operations, Jailani said the MCMC was working in close connection with other ministries as well as Malaysian financial institutions to disrupt the flow of illegal gambling proceeds.
Last month, Malaysia's deputy prime minister announced that the government would rewrite the nation's gambling laws to allow for harsher penalties for illegal gambling operators, with a particular eye toward online operators.
Comments