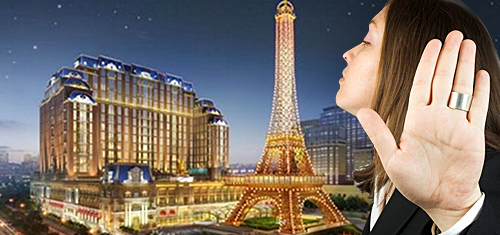 Macau's junket operators aren't interested in setting up VIP rooms in the shiny new casinos opening on Cotai because they're having a tough enough time filling the rooms they're already running.
Kwok Chi Chung, the president of Macau's Association of Gaming and Entertainment Promoters, told GGRAsia that junkets were "not actively seeking chances to establish new rooms" at the casinos scheduled to open on Cotai this year, and that casino operators "are not actively seeking that either."
Macau's Q4 2015 revenue report showed VIP gambling's share of the overall pie fall to 54%, well off its historic mid-70s range. Kwok said casino operators had "naturally" adopted their strategy to "downsize the proportion of VIP gaming in their gaming business."
By the same token, junket operators were "not very eager" to open new VIP rooms due to concerns about a dearth of high-rollers and "whether or not the investment is worthwhile in relation to their operational expenses."
Kwok said he believed there would be more VIP gaming room closures in 2016 although he suggested the pace of these closures would slow from the dark days in the first half of 2015.
On the whole, Kwok sees signs that the VIP market is stabilizing, in part because junkets have tightened their credit policies and were keen to "avoid getting involved in doubtful debts from clients."
BEIJING CAPPING MACAU GROWTH TO MAINLAND GDP
Speaking of, a longtime Macau and China observer believes the single biggest factor driving the current surge in bad junket debt is China's crackdown on underground banking.
Steve Vickers, CEO of political and corporate risk consultancy Steve Vickers and Associates, told the Macau Daily Times that "as shadow banks have closed their lending windows, many gamblers who used these facilities to service their gambling debts have been left with no viable option" to repay.
Vickers went on to say that Beijing used to view junkets as "a much-needed channel to bleed off excess liquidity from a red hot Chinese economy." But as the economy cooled off, so did Beijing's interest in permitting this blatant violation of China's capital outflow policies.
Vickers claims that Beijing has adopted a policy in which Macau's gaming revenue should "not grow faster than the national growth rate of GDP," meaning anyone pining for those halcyon days when Macau's market was enjoying 40% annual growth is in for a rude awakening.
Vickers also had a warning for Macau's western casino operators, whose gaming concessions are up for review in 2020 and 2022. Vickers said Beijing was becoming more enamored with a policy involving "elements of economic nationalism, favoring local champion[s] over the foreign investors."
Vickers underscored this point by saying Macau needed the western operators' expertise during the transition from Stanley Ho's SJM Holdings monopoly to a competitive marketplace in the early part of the last decade. But this deference toward "badly needed Western gaming experience and management practices … will not be so true in 2022."
Comments