The CEOs of daily fantasy sports operators DraftKings and FanDuel pled their case before Nevada regulators on Monday but emerged no closer to resuming their discontinued operations in the state.
Monday brought a rare meeting of the Nevada Gaming Policy Committee, the association of regulators, legislators and other state officials that Gov. Brian Sandoval revived in 2012 to consider new developments in the industry.
On tap for Monday's meeting was DFS, the possibility of eSports wagering and the introduction of skill-based gambling games on casino gaming floors, although DFS dominated the proceedings (and thus also dominates the coverage below).
The need to address DFS arose in October, after Nevada's Attorney General declared DFS to be a form of gambling that, while legal, required operators to apply for state gambling licenses. Instead, DFS operators ceased all activity in the state rather than have to admit that their gambling games were, you know, gambling.
The committee members repeatedly stressed that the state legislature is not scheduled to meet in 2016 and thus there will be no legislative lifeline thrown to DFS this year, putting the onus squarely on regulators and operators to come to some consensus.
Problem is, the panel appeared convinced that DFS was gambling while the operators, like Ted Bundy, won't admit it. Yet Nevada doesn't want to cede its traditional role as the benchmark for gambling regulations in the US of A, and there's the rub.
ASHER'S ACRONYM
The nearly five-hour meeting got off to a slow start, with witnesses offering testimony as to the rise of DFS in recent years and the current patchwork of state-level legislative activity. The real show didn't begin until William Hill US CEO Joe Asher (pictured) stepped up to the microphone and quickly introduced a new acronym – DFSB – into the gaming lexicon.
Asher categorically refused to refer to DFS without appending a 'B" for betting, reinforcing his belief that it was "ridiculous" for anyone to assume that DFS was anything other than "a different form of sports betting." Asher slammed DFS operators "incessant" advertising for using "tiny print at the bottom" declaring that DFS wasn't gambling, saying this "doesn't change reality."
Asher also took issue with DFS operators conflating their product with season-long fantasy contests, saying it was like comparing pee wee football leagues to the NFL, in that there were "some similarities but no comparison."
Asher suggested that DFS operators' pledges to segregate player funds from operating capital were insufficient. Asher noted that licensed gaming companies like his had to post bonds demonstrating their solvency and suggested DFS should face similar requirements.
Questioned how DFS operators might partner with licensed land-based operators in Nevada, Asher said a range of models could apply, ranging from affiliates to joint venture partnerships. But Asher insisted that the predicate for any relationship was for DFS operators to accept the need to submit to the state licensing process.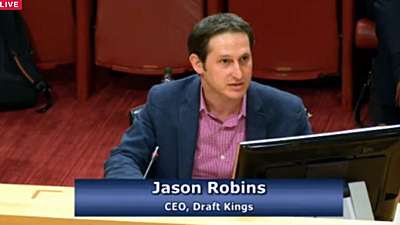 DRAFTKINGS' ROBINS FINDS SOMETHING ONEROUS
DraftKings CEO Jason Robins, unfortunately scheduled to follow immediately after Asher's broadside, suggested his company had been reluctant to pursue a Nevada license because the existing regulatory structures weren't appropriate for DFS operators.
Robins returned to this theme time and again, saying his firm was "all for regulation" so long as it was "thoughtful and appropriate" while rejecting the idea of a "new technology" like DFS having to conform to any of the state's existing gaming categories.
Robins noted that actions in Nevada had implications in other states, i.e. admitting that DraftKings is in the gambling business could cause problems for all those non-gambling 'consumer protection' bills DraftKings is pushing in other states.
Robins played the economic card, touting the many live events DraftKings had held and planned to hold in Las Vegas, but had to shift out of state following the October cease and desist order. Robins said some of DraftKings' corporate partners "might not be comfortable" entering into relationships in the absence of regulatory clarity.
Queried by committee members, Robins claimed to be "not personally familiar" with the fiscal challenges his company could face pursuing a Nevada license. Robins similarly couldn't specify exactly what he found "onerous" in the parameters of the gaming license Nevada requires DFS operators to hold.
Robins also expressed unease with Nevada requiring DFS investors and operators to submit to suitability vetting. Robins acknowledged that there "should be some means of verifying" an individual's legitimacy but believed there should be some "middle ground" expressly designed for (ahem) non-gambling operators like himself.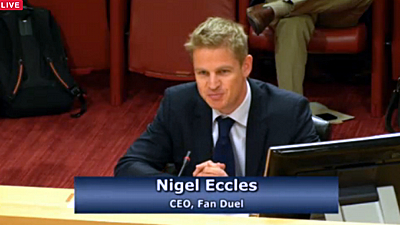 FANDUEL's ECCLES ALSO PERSONALLY INCURIOUS
Robins was followed by FanDuel CEO Nigel Eccles, who claimed he "didn't interpret" the AG's October ruling as an invitation for further discussion, an interpretation he now suggested had been a mistake.
Striking a magnanimous tone, Eccles expressed concern that the cost of licensing in Nevada could prove problematic for smaller DFS operators, the existence of which Eccles cited as necessary to spur further innovation.
Like Robins, Eccles expressed concern that accepting Nevada's gambling definition would pose problems in other states. Pressed by Committee member Paul Matthews regarding the specific obstacles of pursuing Nevada licensing, Eccles claimed he personally hadn't investigated the matter.
Eccles' admission prompted some scolding from Matthews of both Eccles and Robins for repeatedly describing licensing requirements as "onerous" without apparently having done any personal investigation of what was so distasteful.
Committee members then discussed amongst themselves whether the light-touch DFS regulations being enacted in other states would permit the more stringently regulated Nevada gaming firms from partnering with DFS operators. The early answer appeared to be "probably" but no one was willing to go on record with a definitive conclusion.
VIC SALERNO DOES DON DRAPER
The public comment period included testimony from Vic Salerno, whose US Fantasy firm remains the sole applicant for a Nevada DFS license. Salerno touted his company's application as proof that other DFS operators "want to avoid" the licensing process if they can.
Salerno then time-traveled to the early seasons of Mad Men, suggesting that DFS would appeal to women far more than traditional sports betting, because it allowed bettors to wager on individual players rather than entire teams. Salerno believes this would allow women to assemble a team that included Packers QB Aaron Rodgers, because he's much better looking than, say, Peyton Manning. This suggestion prompted even Salerno's female attorney to roll her eyes.
SEE YOU IN AUGUST
Gov. Sandoval suggested the committee would need to meet three more times this year to consider the DFS, eSports and skill-game questions. Sandoval tentatively scheduled the DFS portion to go down sometime in August.
Nevada Gaming Control Board chairman A.G. Burnett appeared to reduce the necessity of at least one of these meetings, declaring that legal eSports betting appeared to be simply a matter of issuing administrative approval, as it appeared to be "just another type of betting."
Nevada Gaming Commission chairman Tony Alamo suggested it was up to the DFS operators to decide "how much time and effort" they wanted to put into this discussion. Sandoval agreed, saying there "can't be a vacuum" between regulators and operators if this issue is to be resolved. Even an onerous vacuum.