The great irony surrounding UFC 196 is that it was supposed to have a different main event. The March 5th card, which takes place at MGM Grand, will be headlined by Conor McGregor and Nate Diaz. The latter is filling in for lightweight champion Rafael Dos Anjos, who is out with a broken foot.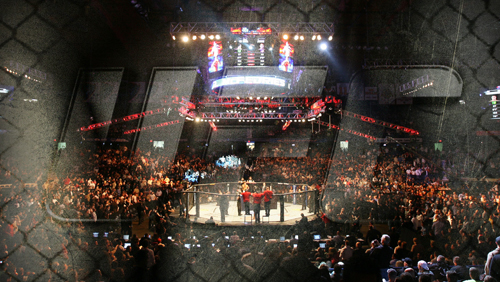 UFC 196 was originally headlined with a UFC Heavyweight Championship match between Fabricio Werdum and Cain Velasquez. Things changed when Velasquez suffered a back injury to go along with his hampered shoulders and knees. So Stipe Miocic happily threw his name in to the octagon…only for Werdum to pull out of the fight (very conveniently) with a back injury.
So Dana White and the brass upstairs decided to shift UFC 196 from pay-per-view to free television, giving it a new main event where the unheralded Stephen Thompson throttled former welterweight champion Johnny Hendricks. The event was re-branded UFC Fight Night 82.
To recap, the UFC 196 main event has featured eight guys ranging from the current featherweight champion all the way to the current heavyweight champion. It's been a mess. The whole things feels cursed.
The sad truth is that this happens all the damn time. Especially when it comes to guys who are prepping to fight Conor McGregor.
You might remember that Jose Aldo pulled out of his first matchup with McGregor citing rib injuries that doctor's sort of cleared him of. The fight shifted from its July date at UFC 189 to December at UFC 194, giving six more months of buildup. The hype train was unstoppable. It was coined "The Biggest Fight In UFC History." The fight ended in 13 seconds thanks to McGregor's right fist.
The injury to Dos Anjos is legitimate, so it's hard to fault him for a broken foot. Yet a ton of UFC's marquee fighters are routinely dropping out of big time fights. And I'm not trying to be unsympathetic. These things happen. Injuries seem to be a part of the sport…unless you're Conor McGregor.
McGregor has taken on a fight with very little notice the same way he did when he fought Chad Mendez for the interim featherweight title. But back then, he was a top end contender fighting for his seat at the head of the table. Now that he's the champion, McGregor has more to lose than ever before.
Could Diaz take everything away from the Irishman?
UFC 196 Main Event – Conor McGregor -450 vs. Nate Diaz +325
Quite frankly, I don't see the payoff for McGregor in this fight. If he wins, it's just on to UFC 200 and a re-up against Dos Anjos, or a tilt against Frankie Edgar. But if he loses? Doesn't all hell break loose?
This is a big risk for Dana White, the UFC and McGregor to take on but it fits in to the fighter's wonderful persona as a people's champ who takes on all challengers. As a fan, I'm just as frustrated as McGregor that his opponents keep getting injured. Part of it is that I never really have to do this in any other sport. It's not like I'll ever have to say to myself, "Oh no! Peyton Manning's injured so the Broncos are being replaced in the Super Bowl by…the Kansas City Chiefs?!"
From a technical standpoint, Diaz fights like a complete, fucking lunatic. I kind of love it, but I mostly hate it. Diaz is the kind of gangly scrapper with long arms that you hate brawling with in a street fight. But he doesn't handle getting kicked well, and he's never been the fastest guy on the planet.
When it comes to mind games, however, Diaz is probably the one guy that McGregor can't get to. That certainly seemed obvious at a press conference for the ages when the two squared off and Diaz accused McGregor and the entire UFC for doing steroids. McGregor seemed to be the one rattled as opposed to Diaz, who nonchalantly ignored the Irish barbs that usually piss off everyone else.
So I don't know what to make of Diaz. On the one hand, his caliber suggests that McGregor is going to lay him to waste. On the other, he has plenty of reach and a height advantage. Diaz is also more proven on the ground.
Don't be completely fooled by these UFC 196 odds either. McGregor opened as a -160 favorite, while Diaz was initially +140. The numbers have inflated because of sportsbooks in Vegas fidgeting with the expected rush of money coming in to McGregor's side of the line. The whole UFC betting community also seems ready to pounce on Notorious in a big way.
A lot of that is for technical reasons. McGregor is fast. He's brilliant in the ring, and he has been ever since he made his debut in the UFC. Anyone overstating that McGregor is moving up a weight class might be overestimating what McGregor's size actually is. He doesn't have to cut for this fight, which is something that Diaz has historically (and hilariously) not cared for.
This is why I hate fights that involve Nate Diaz. He's great to watch because he's such a unique striker, like an angry birch tree swaying in a storm swatting at tourists running for cover. He's also submitted 11 fighters in his 18 wins, and his ground game could be a serious boon if he's able to do the impossible and take down McGregor.
More than anything, I hate what this could do to the McGregor Express. He is by far the most bankable and marketable star in the sport today. He is immensely entertaining, works the crowd like nobody else I've ever seen and remains talented to no perceivable end. It would be damn near tragic to see McGregor's mystique shattered by a midcarder like Diaz.
So again, I don't necessarily understand the gamble here. Dana White had to get something booked for UFC 196 after the main event morphed so many damn times. Now that he has a wild horse like Diaz, he has a fight he can sell. Is it worth it if McGregor loses?
Honestly, it won't be the end of the world. Chael Sonnen famously parlayed a second loss to Anderson Silva in to a title fight with Jon Jones. Guys who run their mouths always get big fights until they can't win them anymore.
And the other element about McGregor that White seems to love is that he never gets hurt. He never withdraws from anything he's booked, and that's a promoter's dream. He can sell tickets for McGregor fights and know that he'll show up. He can't say that about any of his other champions.
It's also important to remember that a loss by McGregor won't totally damage his fame either. Have you seen more of Ronda Rousey or women's champion Holly Holm in the last six months? Exactly.
Perhaps the best part about the strange UFC 196 main event is that it proves once and for all that McGregor will fight anyone that you put in front of him. It's beyond admirable. He says he'll fight anyone and the guy means it. Living up to promises resonates strongly with fans.
At this point, I just don't believe that the jump to welterweight is enough to discredit McGregor's combination of power and speed. Diaz throws an unorthodox game at his opponents, but he hasn't had a whole lot of time to prepare for this fight and McGregor is simply a much more superior fighter.
If we've learned anything about Conor McGregor leading up to UFC 196, it's that the man delivers. Expect Notorious to do that once again on March 5th. McGregor won't be fighting like he's got anything to lose, because we all know he doesn't.
That star has already been born and it will burn until McGregor doesn't want it to anymore. That's how this game works.
Women's Bantamweight Title – Holly Holm -350 over Miesha Tate +265
In her first title defense, Holly Holm will have to endure poor Miesha Tate. I've got nothing against her, and a four-fight win streak is enough to earn her another title fight. But Tate is nothing more than a warm up to try and build up the stardom of Holm.
Anyone doubting Holm's ability should probably revisit her obliteration of Ronda Rousey. Her boxing is superb and she has some incredible coaching from her Jackon's-Winkeljohn's MMA team. She shouldn't just end Tate, she will probably turn her face in to a smashed pizza pie.
Holm is a direct contrast to McGregor. We don't really hear much about her. Maybe it's because she's not as Hollywood as Ronda Rousey, who propelled herself in to mainstream stardom thanks to a strong push by the UFC. She was everything they wanted – beautiful, talented, destructive and entertaining. What Rousey wasn't was indestructible.
What I wonder is if Holm has the star power to push the division to a greater level. Rousey was undeniably gifted at drawing a crowd. We haven't seen that from Holm yet, and McGregor is the one generating income at UFC 196. Everyone else is just piggy packing on his promoting skills.
As the line from Gladiator goes, "Win the crowd, win your freedom." In the case of the UFC, the equivalent of freedom is fighting without the burden that a loss could end your entire career. McGregor has already done that in spades. Holm can take a big step forward in the right direction when she proves to the world that her domination of Rousey was no fluke.
To answer another question from that movie, we will all be very, very entertained by UFC 196.
(Odds provided by Bodog and Oddshark.com)