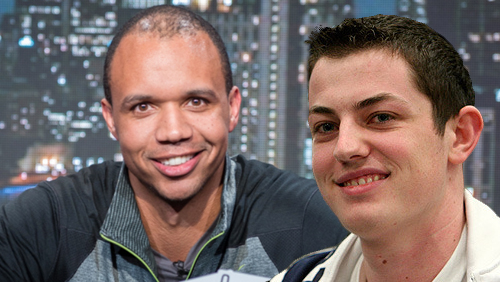 The iPoker Network has announced plans to launch a new derivative of poker known as 6-Plus Hold'em, a game promoted in Asia by none other than Phil Ivey and Tom Dwan.
August 10, 2015, was the date when I warned you that an online poker room would add 6-Plus Hold'em to their menu in a bid to attract more recreational players to the game. Six months later and the iPoker network are the first to take up the opportunity.
According to press reports emanating from the kitchen at PokerStrategy, the new format will be added to the iPoker network on February 22, which by the way, and completely irrelevent to this story, was the date in 2006 when Apple's iTunes store sold it's billionth song.
From Coldplay to more play; 6-Plus Hold'em is a derivative of our bog standard Texas No-Limit Hold'em with a few tweaks designed to get the boys and girls dropping pockets full of poses and singing 'gamble, gamble, gamble'.
To achieve this aim the deck is a lot smaller. Cards in the deuce to five range have been handed to Chris Ferguson so he can chop down a few more carrots, and aces can now be used as a five to make a straoght.
There are other changes in terms of winning hands: a set beats a straight, and a flush beats a full house. In terms of odds, getting dealt pocket aces switches from 1 in 220 hands to 1 in 105; an open ended straight draw gets there 48% of the time instead of the boring 31%; and you are likely to flop a set 18% of the time and not good old 12%.
If you don't believe me then check it out for yourself.
The game first came to prominence after a rare media appearance from Phil Ivey and Tom Dwan. The high stakes pair cuddled on a couch in Macau to talk about the game and its growth in the cash games in their neck of the woods.
Is this the way forward?
Do we need more poker derivatives like 6-Plus Hold'em, or do we need brand new games like HoldemX?
Comments