Online poker legend Aaron 'aejones' Jones has showed the world that he is far from a one trick pony after picking up a check for $5 million after winning the DraftKings 2015 Fantasy Football $15 Million World Championships.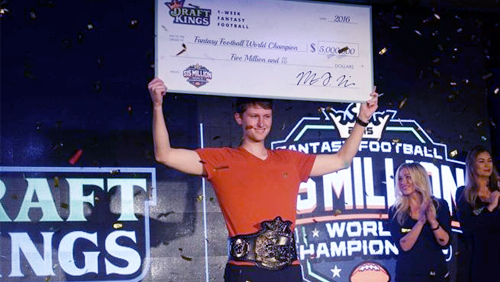 The richest Daily Fantasy Sports (DFS) contest is over.
The DraftKings 2015 Fantasy Football $15 Million World Championships is in the bag.
A professional poker player has won the first prize of $5 million.
Aaron 'aejones' Jones is the new king of DFS. He has won the games biggest-ever tournament. They handed him a check for $5m and a WWE style belt.
Jones made it through 14-weeks of qualifying, before heading to Las Vegas, along with 199 other players, for the semi-finals. He was guaranteed a minimum of $20,000 at that point. He was 5/10 in the final. He was guaranteed at least six-figures for getting that far. Now he has the lot. Lock, stock and $5 million smoking barrels.
Congratulations to the winner of $5 MILLION…@aejonesleggo! Welcome to the BIG TIME! #FFWC https://t.co/BrSGdJl4JT pic.twitter.com/PHRSiU7hYu

— DraftKings (@DraftKings) January 18, 2016
Jones first burst onto the poker scene when he was sweet 17. He was one of the greatest online cash game players in the business. He was also a great coach. Jones formed and coached on Leggo Poker. In 2013, it was acquired by Phil Ivey and the team at IveyPoker. Jones moved over as a coach. His $5 million victory obliterates anything he has ever won both online or live while playing poker. Rotogrinders.com ranks Jones 50th in the world of DFS. Jones has agreed to go onto Reddit to perform an AMA. He will be primarily fielding questions on DFS and his $5m win, but will also answer questions on poker. Now back to that WWE belt. Here's Dan Smith going all Macho Man Randy Savage.
Celebrating more properly now; "I need a pic for tinder" @dansmithholla pic.twitter.com/7xdBMxeTj2 — Aaron Jones (@aejonesleggo) January 18, 2016