Lee Davy grabs a word with the CEO of Europe's Daily Fantasy Sports outfit Fanteam to talk about his company and the business at large.
When I think of fantasy football, I think of David Baddiel and Frank Skinner. The British comedian's hosted a TV show on ITV called Fantasy Football League.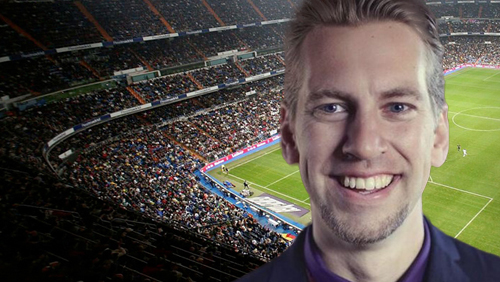 That was back in 1994. Things have changed a bit since then. Back then, playing fantasy football was a hobby. Today, it's a multi-million dollar business.
There is a multitude of quality companies offering a fantasy football service. One of them is Fanteam, and I caught up with their chief executive officer, Kristoffer Zvickell, to pose a few questions about his company, and the Daily Fantasy Sports (DFS) business in general.
This is what he had to say.
Where was the idea born?
"The idea comes from the founder of Fanteam, who saw the extreme interest in Daily Fantasy betting in the US and realized the potential for similar products in Europe."
How does the site work and what options do players have?
"The concept is very easy. Players choose their favorite league and will be presented with various types of tournaments, from one game to a full round and different stakes to cater for all types of players. Every tournament has a fixed budget for buying players and with this, you complete a lineup of your favorite players. When the games start your team will be awarded points for each action, your players are involved in – in the real games."
You offer custom tournaments, explain?
"If our offer does not suit your needs or you simply want to challenge your colleagues, you can create custom tournaments. Here the customers themselves sets the parameters for the tournament, and they can make them invite only – for private play among friends."
I have been a football lover all of my life. I also love gambling. I have never played DFS. Why should I play?
"DFS gives you the chance of being rewarded for your favorite players actions despite the team losing. Fantasy really brings the knowledge to an edge; luck will factor in, but your skills will definitely be needed. But you can also be greatly rewarded for it."
Give me some advice on how to set me up as a DFS player regarding bankroll management, game selection, etc.
"In terms of bankroll management, I would advise players to play fantasy similar to other types of betting, with a minimal percentage of your bankroll at risk at each bet, obviously dependent on the game format and size of the tournament. Players will find their own favorite type of tournaments that suit their playing style, something that also goes for player selection when building teams."
What are your views on the recent "Insider Trading" scandal in the US?
"I am mainly surprised that Daily Fantasy survived as long as it did without being investigated further in the US, considering I see very little difference between this type of betting and traditional sports betting. I assumed that workers at the different companies had personal interests in fantasy betting and, therefore, were betting elsewhere. However, I also expected it to be fair. It is obviously very bad for all betting business when things like these unravel."
What protections do you have in place to ensure this doesn't happen?
"First of all, we are not in the exact same spot as the European daily fantasy market is much different and our competitors have a less similar offer, which limits the chances of using our data for own profit.
"This, however, does not matter as we make sure as few of our co-workers as possible have access to delicate information such as player picks and user lineups, and these workers are obviously forbidden to play daily fantasy. "
What's your view on the likes of PokerStars setting up to enter your market?
"We are happy to see more companies moving into Daily Fantasy – especially the ones targeting Europe. They will all help create better awareness of this type of betting – something much needed in Europe. We, of course, acknowledges that this will also come with fierce competition, but that is a battle we would love to take."
Do you have plans to enter other sporting markets?
"We are always overlooking different opportunities however right now we are a hundred percent focused on continuing to develop and deliver the best daily fantasy product there is. We are soon to launch our first B2B-partnership and open the doors for more such, white labels or platform integrations. I believe that Daily Fantasy is a complementary product as opposed to a competitive one when it comes to the more traditional betting forms such as pre-match and live sports betting as well as poker and casino."
Comments