A California Assembly committee has approved a daily fantasy sports bill, the first such forward progress any state has made on the DFS legislative front.
Wednesday saw the California Assembly Committee on Governmental Organization meet to consider Assemblyman Adam Gray's AB 1437, aka the Internet Fantasy Sports Game Protection Act. The bill was filed in September as a means of regulating, licensing and taxing DFS activity in the Golden State.
Prior to the hearing, Gray filed a number of amendments to his bill, including bans on commingling player funds with operating capital, some mild advertising restrictions, prohibitions on DFS employees playing on other sites and tagging high-volume players with a scarlet letter so fish know when they're being stalked. But Gray's bill still hasn't specified what the state will seek in terms of license fees or taxes.
The proceedings got off to a bad start for Gray, who, as the bill's sponsor, left his chairman's seat to take his place in the witness box, only to discover his microphone didn't work. But that was about the only obstacle Gray faced on Wednesday.
From the start, it became evident that Gray's fellow Assembly members were prepared to advance his bill, although with some caveats. Assemblyman Jim Cooper expressed some trepidation based on concerns that the state's already overburdened gambling agencies lacked the manpower to handle additional responsibilities, the same point he made last June when legislators were considering online poker legislation.
Assemblyman Ken Cooley noted that state law prohibited rivals to the state lottery, and thus the "characteristics of randomness, chance and consideration" in DFS could theoretically raise problems. Cooley said the degree to which skill predominates in DFS requires more inquiry.
Cooley's primary concern was what he called "the knucklehead angle," i.e. the likelihood of fish being preyed upon by DFS sharks. Cooley praised Gray's amendments, including the establishment of ring-fenced games in which sharks couldn't participate, as addressing many of these concerns. But he still worried that "we should not aid and abet the fool and his money soon being parted."
Assemblyman Franklin Bigelow said his primary concern was the federal Wire Act's prohibition of interstate transmission of wagering information, which Bigelow believes makes DFS "an illegal action." Bigelow said he was prepared to support Gray's bill but further discussion was needed to ensure that "whatever action happens has to happen intrastate, not interstate."
Referencing the online poker hearings, Assemblywoman Cristina Garcia asked Gray if he knew where the state's habitually fractious gaming stakeholders stood on the DFS issue. Gray said DFS would be open to all these stakeholders, but Garcia pressed for a more definitive answer, to which Gray could only reply that there was "very little opposition at this point."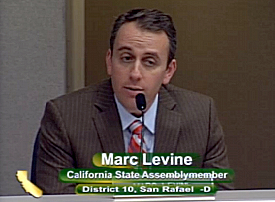 Assemblyman Marc Levine struck the day's only truly contrarian stance, reiterating his previous public statements that DFS "is gambling. There's no doubt about it. Let's not fool ourselves." Levine said DFS entry fees were wagers and DFS operators "are bookies."
Levine, who has asked state Attorney General Kamala Harris to follow her New York counterpart's lead and take action against DFS operators, noted that the legislature doesn't have the power to alter the state's constitution, which limits the types of gambling in which Californians can legally partake. Levine said a statewide referendum was the only way to alter the constitution, the same way the state came to permit horseracing, tribal casinos and the state lottery.
Assemblyman Eric Linder pushed back against Levine's constitutional claims, arguing that Harris had yet to voice an opinion on whether DFS is gambling and that the issue was "important enough to warrant moving [Gray's bill] forward."
Cooley also expressed constitutional caution, saying that if a ballot referendum was in the cards, "we need to frame the question so voters know what they're voting on." Cooley repeated his belief that advancing Gray's bill would advance the skill v. luck question.
In the end, Levine cast the only 'no' vote against Gray's bill, meaning AB 1437 now advances to the Appropriations Committee for further vetting.
TRIBES ARE QUIET … TOO QUIET
There was only a smattering of public input at Wednesday's hearing, with most of the speakers – except the Rev. James Butler, who's firmly agin' it – expressing cautious support for AB 1437. However, there was no appearance by anyone representing the state's powerful tribal gaming interests.
The night before the hearing, the California Nations Indian Gaming Association issued a statement calling the desire to regulate fantasy sports "well intended." However, the CNIGA believes the state "needs to prove it can deal with one online game – i-Poker – before it takes on others."
The Committee's agenda originally featured a trio of gambling bills, including Gray's AB 1441 sports betting bill and Assemblyman Reggie Jones-Sawyer's AB 167 online poker bill, but both were scrubbed from the agenda the day before the hearing without explanation.