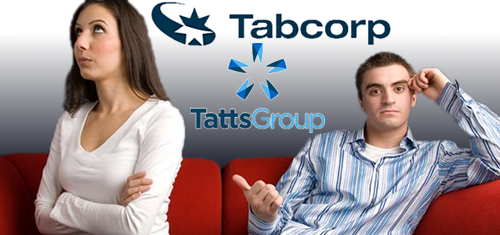 Australian gambling operators Tabcorp and Tatts Group have broken off merger talks after failing to agree on the terms of such a move.
Last week, word broke that the two gambling companies were in discussions regarding some kind of union, be it a merger of equals or a takeover of Tatts by Tabcorp. The companies, which have a combined market cap of $9.4b, reportedly believed that a union was necessary to compete in the increasingly cutthroat Aussie market.
On Monday, the companies announced that talks had broken off. Tabcorp issued a statement saying there were "no further dicussions taking place between the parties relating to a merger or any other form of corporate transaction." Tatts issued its own statement saying the parties had been "unable to reach agreement on key transaction terms, in particular as it relates to a nil-premium exchange ratio."
Tabcorp's shares lost around 10% of their value following last month's uninspiring trading update. This fall is said to have negatively affected Tabcorp's ability to negotiate and Tatts' board of directors reportedly balked at the idea of giving Tabcorp shareholders a bigger share of the combined entity than the roughly 40% the companies' respective market cap would reflect.
OptionsXpress analyst Ben LeBrun told The Advertiser that Tatts shareholders hadn't been offered sufficient cash incentives or share offers to sway their opinion. Prior to Monday's announcement, Tatts shareholder Sandon Capital suggested Tatts would be better placed to spin off its Ubet wagering business in order to focus on its core lottery operations, which generate nearly two-thirds of Tatts' revenue.
Tatts rebranded its wagering division under the Ubet moniker in April, and Tatts CEO Robbie Cooke said last month that the company would reassess the division's performance in February 2016 before deciding whether to further investigate a potential spinoff.