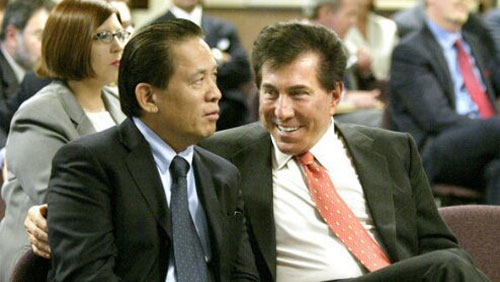 Universal Entertainment chairman Kazuo Okada cannot escape a US trip as the Nevada Supreme Court ruled that he should appear in Las Vegas court for questioning.
Last week, the Supreme Court denied Okada's motion asserting that the deposition should take place where he resides (Hong Kong) or his place of business (Japan) and it should not exceed three days.
Here's the backstory of Okada's feud with Steve Wynn. Okada, who made his fortune manufacturing pachinko machines in Japan, had come to Wynn's financial rescue with $455m to help build Wynn Resorts in Las Vegas and Macau. In return, he became vice chairman of Wynn Resorts and received a 20% stake in the company.
Okada was granted a gaming license for his Manila Bay Resort in the Philippines in 2008, a project in which Okada expected Wynn to join but Wynn's board of directors declared that Manila Bay Resort would compete with Wynn Macau and posed a threat to Wynn's licenses.
In 2010, Wynn Resorts began an investigation to determine whether Okada used a Universal subsidiary, Aruze, to make $110k in bribes to gaming regulator Philippine Amusement and Gaming Corp. (PAGCOR) officials.
In 2012, the investigation into Okada's business dealings in the Philippines led Wynn's board of directors to conclude that Okada was indeed an "unsuitable person" to be a part of its board and authorized the company to redeem Okada's 20% stake. Okada was given a $1.9b promissory note, which Okada claimed to be $800m less than the market value.
Okada refused Wynn's offer and said that the investigators found no evidence of bribery and expected the investigation to be closed. After a series of suits and countersuits… Wynn filed a notice to depose Okada in Las Vegas for 10 days as part of the discovery process. Okada refused and filed a motion challenging the location and the duration.
The courts denied Okada's motion and ruled that deposition in Las Vegas should proceed as scheduled. The Nevada Supreme Court rejected Okada's appeal of this ruling but said Okada could seek to shorten it if he believed that Wynn Resorts is prolonging the deposition simply to harass him.