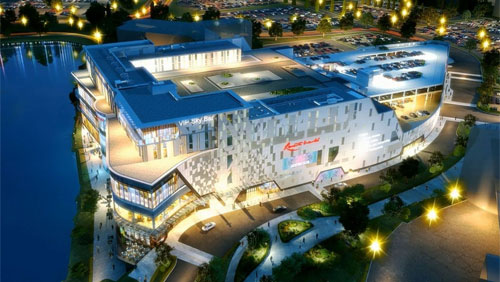 Resorts World Birmingham has announced a phased roll out launch beginning with retail stores grand openings on October 21.
Retailers, including Next Outlet, Nike Factory Store and GAP Outlet, will open first followed by an 11-screen Cineworld cinema on 23 October, with casino gaming set to begin on the 26th.
The Resorts' four-star Genting Hotel, the first one in Europe, will begin booking guests as of November 2nd.
The resort, designed to resemble the experience of a luxury cruise ship, is the newest from the Malaysian Genting Group, who invested $230 million in its construction. The seven-floor facility can accommodate as many as 12,000 people and will provide up to 1,200 jobs.
Resorts World Birmingham is Genting Group's fifth casino resort following Singapore, Philippines, New York City and Malaysia. The sixth is being built in Las Vegas.
"We are very excited following a two year build programme that Resorts World Birmingham is coming to life. We can't wait for the first major milestone in that journey when we open our doors for the first time Wednesday 21st October," said Genting UK President and COO Peter Brooks.
GEN Malaysia seeks to streamline U.K. gaming business
The news followed Genting Bhd, the management company of the Genting Group, selling its UK online gaming operation to subsidiary Genting Malaysia (GENM) as part of a move to streamline the firm's UK gaming business under one management.
According to a filing on Bursa Malaysia (formerly Kuala Lumpur Stock Exchange), Genting Malaysia Bhd will acquire all shares of Genting Alderney Ltd for $10.9m.  Genting Alderney is the wholly owned subsidiary of RWI International Investments Ltd that operates online casino games, live casinos, sports betting, and poker rooms in the UK.
Both Genting and its chairman and chief executive, Tan Sri Lim Kok, own a 50% indirect interest in UWI.
"GENM Group is optimistic about the future outlook of the UK online gaming in the long term as the operating environment in the UK gradually strengthens and the economy improves moderately," the filing said. "Following the proposed acquisition, the operations of Genting Alderney and GUK are expected to be streamlined as an integrated online, mobile and retail gaming business under the focus of a single management in order to deliver a seamless multi-channel customer experience in the UK."
The agreement does not require any shareholder approval and is expected to be finalized during the fourth quarter of this year. GENM plans to finance the acquisition using internally generated funds of the group and its various subsidiaries.