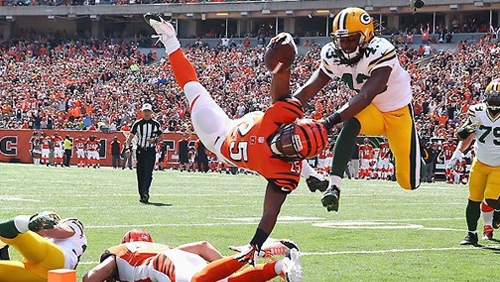 The Green Bay Packers capped off another rough weekend for NFL bookmakers, covering a seven-point line with a 38-28 Monday Night Football win over the Kansas City Chiefs. Aaron Rodgers and company were getting 68-percent of the spread betting and they joined the likes of Denver, Seattle, Arizona and Pittsburgh in helping shift a lot of money from the house to the public.
The Patriots and Falcons were also among the chorus of bookie ball busters as they helped bettors cash at 73 and 71-percent clips. New England easily covered a 14-point spread at home, smashing the Jaguars 51-17 while the Falcons soared past the injury depleted Cowboys 39-28 thanks to 22 unanswered second half points. Atlanta was listed as a two-point road favorite in the inter-conference battle.
The Broncos, Seahawks and Cardinals were favored at -3, -15 and -6.5 over the Lions, Bears and 49ers, respectively, and they covered those spreads by an average of 20.2 points.
The Steelers opened as a slight road favorite over the Rams but by kickoff, they were listed as a one-point underdog. Money came in fast and furious on Pittsburgh as a result and it did not disappoint its backers, recording a 12-6 victory. The final tally did help the odds makers mitigate some of their losses as 76-percent were favoring it to go Over the posted total of 48 points.
The Colts also aided the cause of the house for a third consecutive week, slipping past AFC South rival Tennessee 35-33 in Nashville. Indianapolis entered the divisional scrap a -3 favorite and the public loved it at that number, backing it at 82-percent to cover the spread.
It was truly a narrow escape for the books, though. Titans rookie quarterback Marcus Mariota engineered a nine-play, 80-yard scoring drive that started with just over two-minutes left on the game clock and ended with 47 seconds remaining in regulation.
This week's disastrous showing has bookmakers desperate for some redemption as the NFL schedule moves to Week 4. Early betting percentages show the public taking big sides, which could give the odds makers exactly what they need. No fewer than five teams —Carolina, Atlanta, Oakland, Philadelphia and Arizona — are getting over 80-percent of the spread wagering share.
News and Notes from around the league
The NFL's best team
There are some strong cases being made with seven teams sitting on 3-0 records, but New England, Green Bay and Arizona have really stood out. Of course, the play of Tom Brady, Aaron Rodgers and Carson Palmer has a lot to do with what have been mostly eye-popping performances from those three clubs. The trio has combined for 28 touchdowns and just two interceptions while completing 38 passes of 20 yards or more. Those numbers may drop off some, but given the history of Brady and Rodgers in particular, Patriots and Packers fans have a lot to look forward to. Honorable mention goes to the Bengals and their quarterback, Andy Dalton. Cincinnati is another undefeated, having knocked off the Raiders, Chargers and Ravens. A win over Oakland no longer comes with an asterisk and Sunday's defeat of the Ravens was huge, especially considering what was at stake for John Harbaugh's squad. As for Dalton, he has the second highest quarterback rating in the league at 121 and his eight touchdowns trails only the totals put together by the aforementioned Rodgers (10), Brady (9) and Palmer (9).
The Falcons return to prominence
Dan Quinn was hired to improve a defense that yielded almost 400 yards per game a season ago, but his presence, along with new offensive coordinator Kyle Shanahan, has really sparked the Falcons offense. Matt Ryan and company were hardly a laughing stock last year (23.8 points per game, 378.2 yards per game), but they are putting the 'J' in Julio this season, posting nearly 30 points and 412 yards per contest. Consequently, Atlanta owns a 3-0 record and a 9-0 start is certainly not out of the realm of possibility with the Texans, Redskins, Saints, Titans, Buccaneers and 49ers coming up over the course of the next six weeks.
For whom the bell tolls
Unfortunately, it tolled for Big Ben on Sunday. The Steelers franchise signal caller suffered a knee injury in Sunday's win over St. Louis and it could result in him missing anywhere from four to eight weeks. His up-in-the-air status obviously affects Pittsburgh, which is second in the AFC North standings behind the undefeated Bengals. The Steelers will host the winless Ravens on Thursday night and they opened as a three-point underdog against their archrival. Pencil them in as a three-point favorite in that matchup with Roethlisberger under center. And it figures to get worse for the Steelers before it gets better. Following this week's game, Mike Tomlin's crew plays at San Diego, home to Arizona, at Kansas City and home to Cincinnati. Michael Vick will need to get comfortable with offensive coordinator Todd Haley in a hurry for Pittsburgh to avoid a potentially disastrous run. However, not much about Haley's history with anything or anybody suggests Vick will win quick favor with the notoriously cantankerous coach.
Joe Philbin's fishing for a pink slip
Miami has never been anything but mediocre on Philbin's watch, but it, nonetheless, entered this season with postseason expectations. It is far too early to declare the Dolphins out of the playoff chase, but a skin-of-their-teeth win over Washington to open the season and subsequent losses to Jacksonville and Buffalo (they were favored in both) have sparked some concern in South Florida. Sunday's showing against the Bills was particularly disconcerting. Miami got punked 41-14 on its home field as Ryan Tannehill tossed three interceptions and completed just 26 of his 49 pass attempts. If Tannehill cobbles together too many performances like that, Philbin will, no doubt, hook something he doesn't want on the end of his line.