Full Tilt's new progressive jackpot has been hit for the first time by a part-time hockey coach from Canada playing on his mobile phone.
The progressive jackpot on Full Tilt's 'The Deal' has been breached for the first time. A $233,852 reason why getting involved in Full Tilt's Players Club is not a bad idea.
The man celebrating more than most is a part time Canadian hockey coach and restaurateur going by the name 'Dbecks23x'. The apparent David Beckham fan hit the jackpot whilst playing Full Tilt's new game on his mobile phone.
"I was just watching the baseball, the Blue Jays against the Atlanta Braves, and had my phone going. At first I thought I won $116, and thought it was kind of cool, then I realized it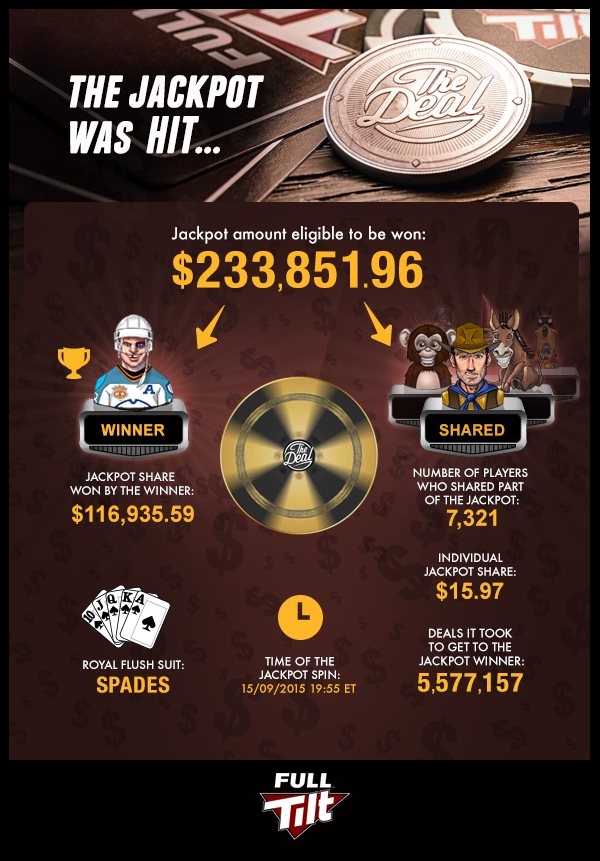 was the jackpot and got an e-mail from Full Tilt." The jackpot winner told Full Tilt after his win.
The jackpot was split 50/50. The Ontario resident picked up $116,935. The rest of the money was divided equally between the players competing in The Deal within 24 hours of the jackpot being hit. 7,321 players received $15.97 each.
"I called my Dad and some friends – and told them I think I just won a jackpot on Full Tilt." The winner told Full Tilt before continuing. "I was like holy smoke! Anything competitive, I like, whether it's horseshoes or hockey or playing cards with friends, I get a kick out of competition."
Did he say horseshoes?
The Deal is the centerpiece of Full Tilt's Player Club, a new loyalty program launched by the online poker room in August in a bid to retain/attract recreational players. The first jackpot took 5,577,157 deals before it was hit, and it was the Royal Flush of Spades that was the winning hand.
The Deal is a card game where you are dealt a seven-card hand; you discard two and then turn over your five-card hand. It doesn't cost any money to play, instead you use coins gathered via the Players Club scheme – earned whilst participating in real money games. Other cash prizes include $200 for a Straight Flush, $20 for Four of a Kind and entry into a $1k The Deal Freeroll for Ace High.
The revised progressive jackpot currently stands at $42,778.