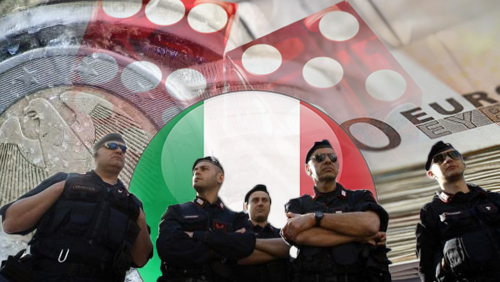 Authorities in Italy netted €25 million in frozen assets following an extensive crackdown on an alleged mafia organization involved in online gambling.
Reggio Calabria police recently launched "Operation Gambling," in which they revealed a far-reaching network of remote gambling companies supposedly used for the money laundering operations of the 'Ndrangheta organized crime group, Malta Today reported.
Part of the network was allegedly headquartered in Malta, where police arrested six Italian nationals last July. But as the investigation continues, authorities learned that there are also mafia-linked companies in Panama, Romania, Canary Islands and the Netherlands Antilles.
Investigators said the companies and trust were set up to manage the organization's illegal online betting business.
Aside from the €25 million frozen assets, authorities also seized close to €1.7 million in Germany and €2 million in Singapore, according to the report.
Last month, three Italian firms—Uniq Group Ltd., Betsolution4U Ltd. and FenPlay—threatened to sue the Malta Gaming Authority after their licenses were suspended as part of the ongoing investigation. The firms said they will sue the regulator for millions of euros in damages if the probe produced no hard evidence of their involvement.
The Uniq Group is owned by Start Games Ltd., whose shareholders include GVM Holdings, which is partly owned by David Gonzi, the son of Malta's former prime minister. FenPlay, on the other hand, is represented by Attorney Mario de Marco, the deputy leader of Malta's Nationalist Party.
In July, six Italian nationals were arrested on the strength of a European Arrest Warrant. One of the men, Mario Gennaro, is suspected of leading the money laundering operation in Malta via a network of remote gaming companies. Italian police said Gennaro made multiple trips to Malta to participate in poker tournaments, launder money derived from the said illegal activity, and also to evade Italian taxes.
Aside from Gennaro, police also arrested Betuniq directors Sernea Parvenza, Antonio Pantisano Trusci, Margherita Simona Giudetti and Marco Zucco.
Meanwhile, gaming regulators in Malta have started reviewing the country's gambling legislation. But a representative from the Malta Gaming Authority denied the review was prompted by the recent crackdown, saying it has been underway since 2013.
Comments