In the endless reaches of the Internet universe, there exists an app known as QQ, an instant messaging software service in a form of a cute winking penguin in the distant screens. There, civilization was far advanced and it brought forth a variety of "super services" — social games, music, shopping, microblogging, movies, voice chat, and many others, which were developed to the absolute peak of desktop-user experience perfection. But there came a day when its mother company, the Internet giant Tencent, thought of developing a mobile messaging service. One of the Internet giant's leading techies, sensing the approach of the game-changing smartphone, placed his idea in a capsule in a small rocket ship and sent it hurtling in the direction of the CEO's office just as QQ's desktop and eventually, mobile popularity, exploded.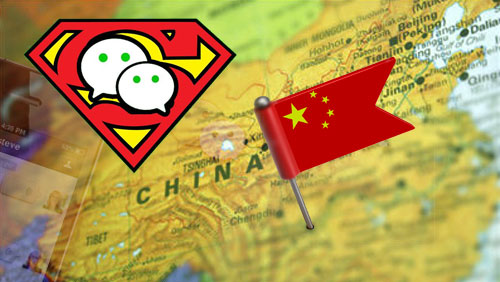 The rocket ship sped through the star-studded mobile space, landing safely at the CEO's office with its precious load: Tencent's multibillion-dollar-app idea. The CEO found the rocket ship, and named the capsule.
As the years went by and the capsule grew to maturity, it found itself possessed of app-mazing powers. Faster than a speeding bullet in sending messages, photos, videos, voice messages and sights; more powerful than any other platforms for navigating on mobile and into the physical world; able to adopt an integrated system for various services in a tap within a single app. The idea of Internet giant Tencent is now called WeChat: the SuperApp! To be in the best position to use its appmazing powers in a never-ending battle for innovation, flexibility and user convenience, SuperApp WeChat has assumed the disguise of an all-around assistant, serving mobile users for a great mobile, social and physical experience.
And there, folks, is the story of WeChat, the Super App!
(thanks to Superman for inspiring that introduction).
With over 600 million monthly active users in China and abroad as of July 2015, WeChat has become the fastest rising messaging app in the world. Launched four years ago by one of the world's Internet giants, Tencent, WeChat was first known as Weixin (micro-letter) and was created as just another messaging app for sending text, voice and photos. Fast forward to 2015 (and if you are in China), along with basic communication features as listed down by Andreessen Horowitz's Connie Chan (on her brilliant analysis of using the app), WeChat users can now also:
access services to hail a taxi, order food delivery, buy movie tickets, play casual games, check in for a flight, send money to friends, access fitness tracker data, book a doctor appointment, get banking statements, pay the water bill, find geo-targeted coupons, recognize music, search for a book at the local library, meet strangers around you, follow celebrity news, read magazine articles, and even donate to charity.
All of these are integrated and can be done in one app! Super, isn't it? But why does the WeChat story matter for any industry? Most of all, how is WeChat relevant to penetrating and winning China?
The Case of Uber
When one of the 'recent world' great brands starts whining to a powerful country like China for being banned in an app, you know that app is a big deal.  This is exactly what is happening to ride-hailing company Uber after its customer support profile disappeared on WeChat last March.
Citing local media reports in China, Bloomberg said that Tencent accused Uber of violating WeChat policy and complained about technical glitches. However, Uber thinks otherwise. Emil Michael, Uber's SVP for business, told Bloomberg that the company is facing "deterioration in the competitive environment" in China.  In fact, this may be true.
Uber's biggest competition in the country is Didi Kuaidi. Tencent is one of Didi's biggest investors. WeChat is a product by Tencent.  And where is Uber? Nowhere on WeChat. Didi reigns on WeChat. Didi gets all the access to 600 million users in China!
As any businessman from the west would think, "Why would Uber worry about WeChat? Go use something else. Move away and don't rely on a WeChat-kind of strategy!" This is a sensible point, but what would you do if you are a western brand trying to go eastward to expand your business? Should you mind being banned by a powerful and almost unparalleled channel to millions of tech-savvy Chinese market? You should!
The challenges of winning China
Uber's case may seem to be hilarious for some for appearing to be relying heavily on this platform and for creating a war in the enemy's territory. However, it is understandable as WeChat is any business's gateway to millions of Chinese consumers, and you gotta fight for it… real hard!
The downside is that China's government seems to be protecting its homegrown multi-billion dollar company. And with the recent crash in the stock market and an attempt to stay competitive by depreciating its currency to spur its economy, it looks like Uber's complaints will fall on deaf ears.
Competing with a local business in China is only one of the challenges faced by companies trying to get in and win this market. Bureaucracy and governmental challenges are a given. It's often the reason why businesses struggle to expand in China.
In some cases, Chinese consumers can give preference to native companies that are working to improve the quality of their products and services. Local companies aim to sell products and services cheaper than foreign ones but with the same value and quality, and then look to sell these abroad. Chinese consumers are now more receptive of local products (for instance, high-end Chinese phones such as Xiaomi and Huawei vs. Apple and Samsung). This has increased the competition, making it more difficult for foreign brands to win over Chinese consumers.
Not to mention how detached from most other economies in the world China is, which makes it more difficult for businesses, especially foreign ones, to access its market. Consumer preference has also shifted in the past decade and it is believed to be far more diverse than before.
The rise and influence of WeChat
WeChat has helped brands in China – foreign or local – move one step closer to reaching out to consumers. What started as a service with basic communication features has now evolved as the perfect app for millions of users worldwide.  There is an exception, though. China is the only territory in the world that experiences all these appmazing powers of the super app. I won't explain further how it works (app within an app, e-commerce, payment system, et al) as Connie Chan's writing, which I mentioned above, has already excellently tackled that. Allow me to emphasize how WeChat can be beneficial to brands trying to build its mark within China.
WeChat was made for mobile-first users. It was not developed as a web-based app and then adopted for mobile. The very DNA of WeChat lies on mobile, and building a mobile lifestyle for its users is its bloodline. WeChat should matter to any business because it manifests possibilities when an entire country like China (1/3 of China's population is active WeChat user) transitions from the desktop era to mobile. And what is happening now in China and to over 10 million official accounts (brands, celebrities, startups, et al) on it is just a proof of WeChat's influence on how brands do business today, and how they do it successfully.
There is one aspect of business WeChat is strong at, which is hands down will benefit any business: consumer engagement. With its heightened privacy and exclusivity unlike Sina Weibo (Twitter and Instagram-like app), WeChat has made it easier for a business to have a private communication with any user who subscribes to their official account. This brand-to-consumer type of conversation, which happens to be singular and private, has let brands integrate their efficient customer service and digital content for a much smoother and fluid customer engagement on mobile.
Of course, challenges are not new in any business, and like in any other platforms, these are some things to take into account to understand further how you can leverage and expand your business thru WeChat:
Localization
A careful integration of content and digital streams like WeChat is essential for companies planning to expand and penetrate in the Chinese market as more people are looking for real-time updates. This has to manifest on a brand's WeChat official account. In order to get an official account though, a brand has to undergo a strict registration process.
Creating a believable voice on WeChat poses a great challenge for any business, more so for foreign brands. Brands push for messages and ambush users with recommendations without customizing their strategy for the local market. It's a no-no. What's the point of having access to millions of users if they find you irrelevant and annoying? Localize. Be relevant.
Censorship
Being banned on WeChat is a headache for any company. Imagine losing access to hundreds of millions of users, most of them have their credit cards linked to their WeChat account (sorry Uber).
A report from Citizen Lab on WeChat censorship shows that 1.55% of the posts made by active accounts were censored by the system and 1.48% of the user accounts it followed were suspended. In addition, 2.44% of posts were self-censored. It also has a list of sensitive terms that can't be posted at all.
However, if you will be optimistic about it, that's just less than 5%. This means that majority of WeChat official accounts are not being censored at all. So there is the silver lining!
Heightened privacy and ad limitation
Facebook has mastered the art of grabbing a portion of your marketing budget for ads/boost for a larger market reach. And it is a win for most businesses who want to get their brands out to their customers' newsfeed.
The heightened privacy could be a user advantage feature on WeChat, but it is a drawback for brands. For instance, when a friend posts on WeChat moments (Facebook wall-like feature where users are able to share articles, links, photographs and music), you can only view likes/comments by those in your contact list. Unlike on Facebook, where you can view almost everyone who liked/posted comments on a friend's post unless you're blocked, of course. This kind of feature on Facebook allows other users to view the reach and influence of a certain brand by merely looking at the newsfeed. For the longest time, this feature can't be found on WeChat and has become a challenge for brands, especially those who are used to the benefits of sponsored posts on Facebook newsfeeds.
In January this year, WeChat rolled out advertisements on "Moments" feed, just like how you view sponsored posts on Facebook newsfeed. Users are allowed to 'like' and comment on the ads. Ads shown also depends on big data analysis of the user's previous behavior on the platform. It will be valid for seven days, and if the ads don't garner a like or comment in the first six hours, then it will be removed from the user's 'Moments' feed. Though limited, it is a big step for brands trying to stand out within WeChat's private persona.
Though WeChat is private and is better suited for a more established and engaged audience, I still believe that new businesses can successfully take advantage of this app as long as they understand the necessity to individualize attention within the platform and build the right content strategy for the users.  Moreover, it is best to note how WeChat has developed a social networking space that successfully captured Chinese psyche and society, where it is a taboo to publicly share opposing opinions. Users have now the concept of liberty to self-express thru this app. This is mainly the reason why I believe it worked and still is working. Users find comfort and security, and most of all, convenience of doing so many things in a single app.
With continuous growth and innovations being developed by WeChat within itself (they will soon launch WeSecurities, a trading platform within WeChat), it looks like it's still far before the app reaches its plateau. Now that everything is going mobile, the success of WeChat must serve as a guide for every business to rethink its model from the ground up. The question now is, will you lead or lag behind mobile?