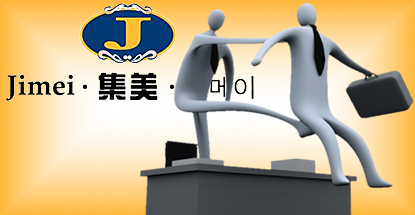 Macau casino junket operator Jimei Group has reportedly fired 20 employees and more layoffs are on the way due to decreasing action at its VIP gaming rooms.
On Tuesday, Macau Business Daily quoted Ieong Man Teng, president of casino labor union Forefront of Macau Gaming (FMG), who said he learned of the dismissals from two of the 20 workers who found themselves out of a job and requested assistance from FMG.
Ieong said most of those who got the sack were employees with bad performance records. But Ieong said there were also some Jimei staffers who'd been "unreasonably dismissed," including those who recently returned to Macau following business trips.
Ieong noted that this latter group had been "compensated by their boss based on the labor law" but FMG was nonetheless discussing the matter with the Labor Affairs Bureau to see if there were any other actions that could be taken on behalf of the unreasonably dismissed staff.
Jimei independent non-executive director Kwok Chi Chung defended the staff cuts, noting that Jimei was far from unique in looking for ways to trim expenses in Macau's diminished VIP gaming market. "When costs are that high, what should we do if we don't cut manpower?"
Kwok, who also heads up the Association of Gaming and Entertainment Promoters of Macau, admitted that Jimei was planning further reductions in its payroll but said he was uncertain as to how many other staff would face the axe. Jimei posted a profit in its most recent earnings report but credited most of the gains to its new operations outside Macau.
MACAU VIP ANALYSTS LIKE BLIND MEN DESCRIBING AN ELEPHANT
Macau has suffered 14 straight months of gaming revenue declines and early word has August on track for a near-record plunge. Most of the decline has come from the VIP sector, and a new report by Sanford Bernstein analysts attempted to quantify VIP spending, only to conclude that the available data was insufficient.
According to the Bernstein report, there are about 2m households in mainland China that had a net worth of over $1m in 2014. Of these, the assumption is that around 6%, representing 120k VIP players, lost an average of $210k in Macau casinos last year.
Given that anyone at the lower end of that net worth chart losing that much per year isn't going to be a millionaire for very long, Bernstein analysts say it's no wonder that Macau's VIP business model "simply is not sustainable."
The report posited an alternative theory under which each one of China's 112 billionaires is an "enthusiastic" gambler who loses $4m in Macau each year, but this would only account for around $5b in VIP revenue, leaving $22b of 2014's VIP total unaccounted for.
The report said VIPs and premium mass gamblers were largely dividable into three groups: private business owners, individuals with ties to government or state-owned businesses, and private business owners who earn a hefty slice of their income from corrupt practices.
The latter two groups have been among the most prominent targets of Beijing's corruption crackdown, leading Bernstein to conclude that "most (if not all) of these types of players have already exited the Macau market (and likely will not return)."
Bernstein suggested that it will be up to the mass market to reverse Macau's downward trend and echoed claims by some that the new slate of mega-resorts opening on Cotai will boost demand.
This runs contrary to Daiwa analysts, who last week said they saw "no fundamental basis to support a turnaround" in Macau's fortunes. Nomura analysts supported this latter view, issuing a note on Thursday saying the new Galaxy Macau Phase 2 had proved unable to effectively convert increased footfall into gaming revenue.
Bottom line, the Bernstein report says Macau suffers from "the ultimate China data sufficiency problem." Simply put, "we do not have enough data to categorically dismiss many of the anecdotes that get thrown around about Macau."