Macau Legend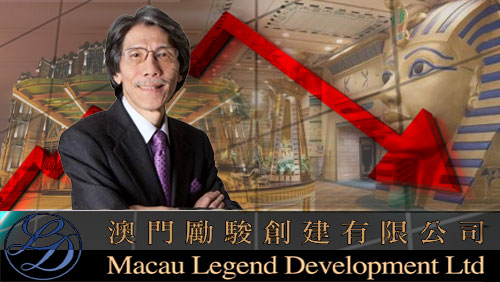 boss David Chow said that his company is performing in line with the downward gaming trend across Macau.
Macau-based casino and hotel operator Macau Legend Development Limited reported revenue down 23.9% year on year to HKD698.2 million for the first six months of 2015, with adjusted EBITDA of HK$128.4 million, a 70.4% drop from H1 2014.
Macau Legend also saw an interim loss of HKD68.44 million ($8.77m), compared to a profit of HK$226.37 million over the same period a year ago, due to a plunge in gaming revenue.
Gaming revenue decreased by 31.3% to HKD449.9 million, attributable to a 61.9% plunge in table game gross revenue to HKD1.88 billion but compensated by a positive contribution of the company's self-run VIP operation New Legend, which contributed HKD109.7 million.
Macau Legend operates a total of 150 gaming tables at Pharaoh's Palace Casino in the Landmark Macau and Babylon Casino in Macau Fisherman's Wharf.
"As part of the industry [in Macau], it was unavoidable that the total gross gaming revenue of the Group would not be affected," said Chow.
Macau Legend also said that the loss was also due to an increase in overall depreciation and amortization charges, particularly the depreciation of Harbourview Hotel which commenced operations on February 2, 2015, and the amortization charges related to consolidation of the financial results of New Legend since July 3, 2014. Non-gaming revenue also dropped 5.4% to HKD449.9 million, impacted by less earnings from hotel and catering operations at Landmark Macau.
"We are expecting growth to return with the Government reviving favorable policies to support the industry, but as revival to previously high growth momentum is not expected at this stage," Chow added. "We are, therefore, taking steps to manage our operating and capital costs in Macau and to explore opportunities to grow outside Macau."
Macau Legend has signed a contract to build an integrated resort and gaming facility complex in Cape Verde, in which it plans to invest approximately HKD2.1 billion ($275m).
"We consider this investment in Cape Verde a great opportunity and allows a Macau enterprise to make use of the Sino-Portuguese platform to expand its business overseas," said Chow. "Also, the project follows the China Government's national policy 'One belt, one road', a strategy to help position Macau as one of the important cities on the Maritime Silk Road, and has the potential to lead the small and medium enterprises of Macau to expand internationally."